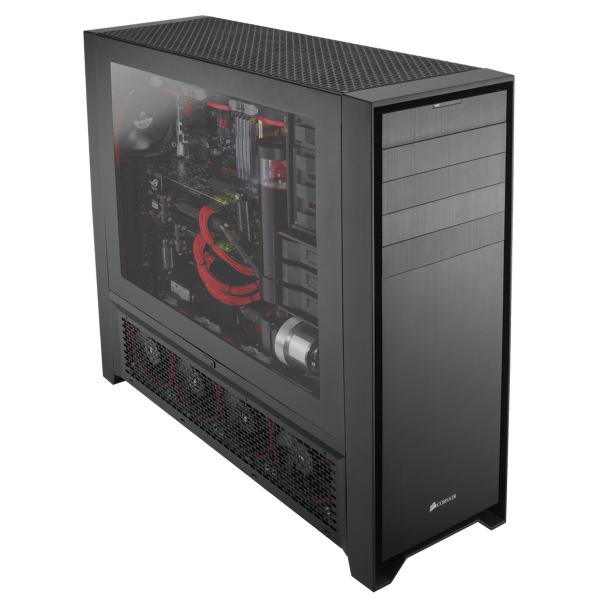 How To Buy A PC Case
In most cases, people don't care how a PC case looks, but to a serious builder it absolutely means everything. So, if you want the best case for the money, here are tips on how to buy a PC case. In any event, an average person will only worry if the computer can fit under a desk.
In fact, they only need basic requirements: housing hardware, access to power, and usb ports. Comparitively, the case is so simple that it does not take very long to know how it works. When deciding which case you want to house your components of course there are many things to consider.
For example, what does the case do? Will it house all the components? Is the design suitable? Then again, knowing the answer to these questions will help you buy the right case.
On the other hand, what happens if you choose the wrong case? Be that as it may, don't panic, send it back and consider it a learning experience. Important to realize, pick the right case and you will make your build look so f**#ing great.
So let's not leave anything to chance, agree, OK.
Case Size
Obviously, the bigger the case, the more room for hardware and the easier it is to work in. On the whole, cases are classified according to size, they are: full tower, mid tower and mini tower. However, before you look at cases you should pick out your hardware and what you will need for the future.
In effect, this means the case must fit the hardware and additional add-on's down the road.
Central Processing Unit (CPU) Cooling
In general, you will need to cool your CPU with a fan or radiator. As a result, the cooling method will depend on how you are going to run your computer. In effect, a small case may not fit a big CPU fan, you might have to go bigger.
For this reason, Noctua has a buying guide for their CPU coolers, to determine motherboard compatibility and case compatibility. Additionally, manufacturers will always list radiator support in the specifications, so verify support of the one you want to run.
Graphics Processing Unit (GPU)
Due to the fact that there are so many removable parts, GPU clearance can vary. In general, more than 12" of clearance should support almost any GPU card. Although, the power connectors off of the edge may require a bit of extra space.
To emphasize, the smaller the case the tighter the clearance for the GPU.
Comparison Chart
Cougar Panzer EVO RGB Black ATX Full Tower RGB LED Gaming Case
CORSAIR OBSIDIAN 500D RGB SE Mid-Tower Case, 3 RGB Fans
CORSAIR Crystal 280X Micro-ATX Case, Tempered Glass - White
Form Factor
Accordingly, form factor refers to the design of the case's interior, and the type of motherboard size the case supports. Moreover, when building a PC, it's very important to be sure that your case and motherboard match up. Although, there are other motherboards, the best selling are: ATX 12" x 9.6" and microATX 9.6" x 9.6".
In general the microATX motherboard will fit in a case designed for an ATX motherboard, but not vice-versa. Additionally, they all have screw holes in slightly different places. For this reason, do not try to force an ATX motherboard into a microATX case, it's 2.4" too long.
Thus, you may be lucky to fit the GPU, but what about the other boards? Accordingly, an ATX motherboard has more expansion slots and can fit the big GPU.
For this reason, the motherboard form factor must match the case, you must verify by checking the specifications.
Drive Bays
Generally speaking a larger case usually has more drive bays as opposed to a smaller case. Important to realize there are 3 sizes of drive bays, they are: 5.25" bay for Blu-ray drives, fan and audio controllers; 3.5" bay for card readers and HDD; and 2.5" bay for SSD.
For one thing, most full-size tower cases have three 5.25" bays and five internal 3.5" bays; further, some cases come with specially designed adapters that let you install a 3.5" drive in a 5.25" bay. Specifically, I will repeat, check the specifications.
Expansion Slots
All in all, ATX cases have up to 7 slots on the rear panel for expansion cards; while, microATX have up to 4. On the other hand, some cases can handle 2 slot GPU cards and up to 10 slots. With this in mind, again, check the specifications, be absolutely sure and do not overlook this point.
Front-Panel Input/Output I/O Ports
Since there are many plugin portable and peripheral devices, being able to plug into the front panel is a bonus. Of course, headphone and microphone jacks are standard as are blue USB 3.0 ports. Additionally there may be slots that can read phone and camera memory cards. Lastly, some cases include RGB LED, and all cases will include power and reset buttons.
Tool Less
In general, most of the cases have tool less assemblies that allow access to the inside of the case. Although, there are a few exemptions like the motherboard, which uses standoffs and a # 1 Phillips screw. As a result you will need a # 1 Phillips screwdriver.
Surprisingly, different cases will have different methods of securing devices. For example: clips for optical drives; caddies to allow hard drives to slide in and out; and press and click rails for expansion cards. Another key point, tool less cases are convenient, and user friendly.
Therefore more expensive cases always have the best tool less designed systems. On the other hand, I am an old school guy and nothing beats a good old fashioned phillips screw. Although most cases are now Tool less you may want to pick up tools if you do not have any.
I don't want any components inside of my case coming loose because the shit will hit the fan.
PSU With Case
Even though, some manufacturer's will include a PSU with the case, will this work for you? Possibly, make sure you do a calculation of your power requirements for now and the future. Most of the cheaper cases come with low wattage power supplies and long term you are not saving money.
In fact, you are wasting time and spending more money on another power supply. From time to time, brand name manufacturer's will have case and psu deals, buy it, if it fits your requirements. If you are unsure of your power supply needs go here to check the calculation.
Fan Case Cooling
In general, most cases come with a fan on the front and on the back, right out of the box. Surprisingly, a fan's location and direction can make or break the system performance moving air from inside to out. In particular you will want to have the same number of fans intaking air as well as expelling air.
Overall, smaller fans are noisier than bigger ones and if you have a bunch of them it'll be noisy. In contrast, use larger fans to move more air at a slower speed and are very quiet. Also, if you find the fans are making too much noise you can line the case with sound dampening material.
Specialty PC Case (Super Tower Case)
Uniquely, there may be a time when you are looking to fit 2 computers into 1 case. Different from a single PC, the case will fit 2 motherboards (ATX and ITX) and all of the components. At the same time, you can game and stream and not bog your system down. With this in mind, see the Corsair Obsidian Series 1000D Review.
Aesthetics
In the long run, do you care how a case looks? Of course you do, even though, technically aesthetics has no importance, you buy it because you like it. In effect, buying a case is relatively easy because you match the specs to the other components.
For this reason if you have a match you are good to go. On the other hand, do you like the color? Is it too boxy? Is the case tall enough?
Sooner or later, will you do any sort of modding, and possibly water cooling? In essence, you can have any case you want, but sorry to say, you have to pay for it.
Final Verdict
Lastly, the price of cases range anywhere from $50.00 to over $1,000.00. Of course, the more feature rich the case is, the higher the price. In this case, (pardon the pun) you get what you pay for.
All things considered, you need to decide which case will match the system you want to build. So, I hope I have helped you on how to buy a PC case. In brief, check and double check the specifications to match your needs to the case.
With this in mind, don't forget to check out my reviews of PC cases. One last thing, I appreciate comments, if you leave a comment, I will always reply.
Image Courtesy Corsair