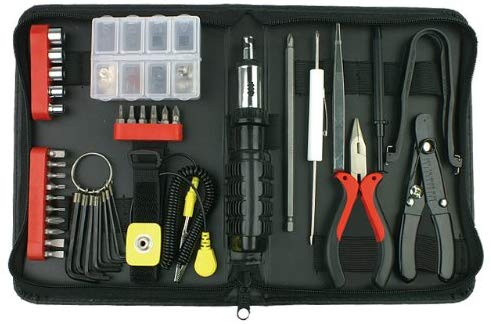 Computer Tool Kit
Before you start to assemble your computer, I would recommend that you pick up a computer tool kit. Computer building requires very specific tools and you must have them before you start.
You don't want to wait and you do not want to pay someone to work on your computer. The items that you will need are: computer tool kit, safety glasses, anti static mat, digital multi meter and a solder iron.
The essential items you will need are the tool kit and for safety I would absolutely recommend safety glasses and an anti static mat. Put aside some extra cash, so your budget can cover these items.
Rosewill Tool Kit RTK-045
I recommend the Rosewill 45-Piece Premium Computer Tool Kit. This budget minded kit has more than the minimum needs for assembling computers. Designed with the most popular tools for assembling, fixing and performing just about any task including computer/electronic repairs.
The case is durable and can be dropped. Included is an anti static wrist strap, big enough for large wrists. Also, the alligator clip is removable from the end of the wrist strap to reveal a ground prong. The whole tool kit is very good quality, unlike the dollar store sets.
It includes a screw pronge device with claws. Looks like a syringe and when you push it down a little claw can pick up whatever. Excellent for picking up screws or nuts where you can't get your hands.
Get this kit if your money is tight.
Rosewill Tool Kit RTK-146
The ultimate tool kit the Rosewill RTK-146 Computer Tool Kit, has everything
you need for home computer assembling, or office repair & maintenance. Use these tools to take on any challenging tasks.
This uses the same tools as above but now it is 146 tools The kit boasts the most comprehensive tool combinations, including the most frequently used tools. If you can fit this toolkit into your budget this is obviously the choice.
A solder iron is included in this kit, so you will not need the solder iron below at the bottom of this page. Get this kit if you have the budget.
Safety Glasses
An absolute must have. Problem with not wearing a pair of safety glasses is stuff happens. You may think that these glasses are too geeky, but you may be surprised. One unsuspecting incident is all it takes. You have saved your eye(s).
This is a story from my bench technician days, I was soldering and accidentally flicked my solder iron up, which had a dab of solder on the tip of the iron and boom, solder on my right eye. Guess what? I did not have my glasses on.
I can still remember the horrific pain. You will understand the pain if you have ever had boiling water splash onto your body. I am lucky I did not lose my eye. On the other hand, I could not see out of the eye for a week.
Make sure you pick up a pair and wear them each and every time you work on your computer.
Anti Static Mat
The next thing that you will absolutely need for building computers or any electronic assembling and repairs is an anti static mat. The idea of the mat is to keep you and everything else at electrical ground potential.
Digital Multi Meter (DMM)


For those of you that will be testing and troubleshooting, you will need a DMM. Great for measuring AC volts, DC volts and resistance. Not an absolute necessity, but if something doesn't work, you won't know until you check basic voltages.
You will need to learn how to use the DMM if you have not used it before. A very short simple lesson, touch the leads where you want to measure. Make sure you have the meter setting on what ever you are measuring.
Take a reading. For those of you that don't understand, I suggest you read the manual before use.
Solder Iron
For those of you who are doing any kind of repairs you will need a solder iron kit. This is also something that has a bit of a learning curve. I will give you a quick lesson.
Plug the iron in and give it a minute to heat up. Tin the iron with solder, this means touch the solder to the iron. The solder will liquefy and flow onto the iron, give the iron a very light coat.
To apply solder touch the solder to the iron and item that you are soldering let the solder liquefy and then flow. The solder should be applied smooth and even. Practice applying solder as much as you can, let it liquefy and flow.
No need to move the iron around. Do not apply too much heat. Soldering is an art that can easily be perfected, practice makes perfect.
Recommended Parts
Rosewill Tool Kit RTK-146
STAR BITS: T8H, T10H, T15H, T20H, T25H, T27H, T30H, T35H, T40H
HEX KEY BITS: 5/32", 9/64", 1/8", 7/64", 3/32", 5/64"
HEX BITS: 2, 2.5, 3, 4, 5, 6mm
SPANNER BITS: 4, 6, 8, 10mm
TORQ SET BITS: 6, 8, 10mm
60mm MAGNETIC BIT HOLDER
Torque Screwdriver Set: T10, T15, T20, T25
5 Piece Socket: 3/16", 1/4", 5/16", 11/32", 3/8"
AstroAI Digital Multimeter
Accurately measures: AC/DC voltage, DC current (not AC current), resistance, continuity, diodes and more
Troubleshoots safely: automotive and household electrical problems safely and accurately
Ease of use: data hold and large digital display with backlit LCD for visibility in dimly light areas
Sampling speed: 2 times per second. Overload protection on all ranges
Built-in kickstand for hands-free use. Protective rubber corner guards for drop protection
1 year by Astray
Tabiger Soldering Iron Kit 60W
BASIC SOLDERING IRON KIT: This package comes with soldering iron, 5 solder tips, stand, solder wire tube, anti-Static tweezer, desoldering pump and a durable tool case. This tool set can meet all of your soldering project needs.
HEAT UP QUICKLY & ENERGY SAVING: The 110V 60W soldering iron features an advanced ceramic printed heater to heat up to the targeted temperature quickly, and adjustable temperature range 200~450℃ with large venting holes make it much more energy-efficient.