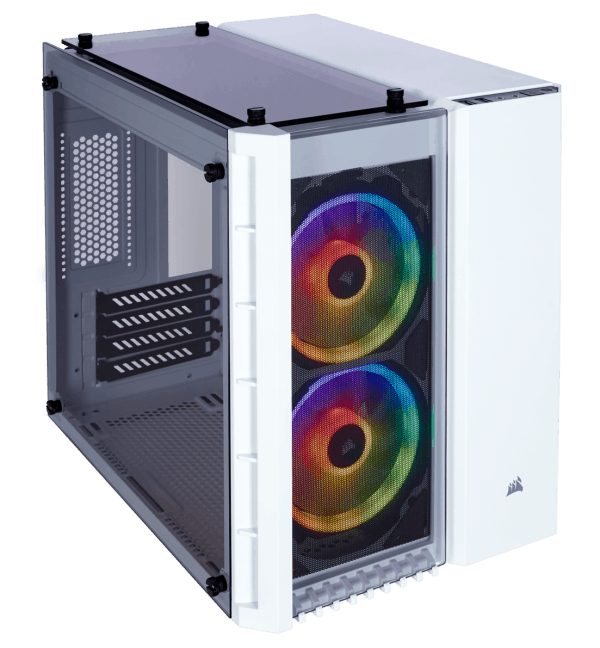 Best Mini ITX Cases 2021
For those of you that like smaller cases for the smaller mini-ATX boards I have picked a handful here. The chassis market is so competitive and to make a list even a shortlist is overwhelming. So this is my review of the best Mini ITX Cases 2021.
Of course the smaller cases look good and can easily fit almost anywhere, the only limitation is internal space. If you are still going to invest in a small motherboard then you have come to the right place. For those of you that do not have tools check here and if you need protection from esd go here.
Also I would strongly suggest you check out a UPS to protect your computer and hardware investment from electrical spikes.
Comparison Chart
1. NZXT H210i
Form Factor: Mini Tower | Motherboard Support: Mini-ITX | Dimensions: 210 x 349 x 372 mm / 7.80" x 18.1" x 13.26"| Weight: 6.0 kg / 8.38 lbs| Radiator Support: 120, 240 mm | I/O Ports: 1 x USB3.0 type A, 1 x USB3.1 type C, 1 x Audio/mic, | Drive Bays: 3 x 2.5", 1 x 3.5" | Included Fans: 2 x 120 mm | GPU Support: 325 mm / 12.8" | Cable Management: 16.35 mm / .64" | CPU 165 mm / 6.50" | PSU 311 mm / 12.24".
NZXT is famous for their cases and the H series has become so iconic that any enthusiast will recognize the brand. The NZXT H210i is part of the H series and the most compact case, essentially a smaller H510i. Replacing the older H200i series and comes with a Smart Device V2 for managing RGB lighting and fan control.
A stunning design which follows the rest of the H series, sporting a full metal chassis in white and black paint.
Features
The H210i dimensions are 210 x 349 x 372 mm, supports a Mini-ITX motherboard, and weighs 8.38 lbs. Unfortunately due to small size, there is only 1 PCIe slot available. Up top on the front I/O panel, 1 x USB3.0 Type-A, 1 x USB3.1 Type-C and audio and microphone.
Elegant looking tempered glass, in a small-form-factor (SFF) chassis with 2 expansion bays. Unlike the H510 Elite, which has 2 intake strips on the front panel, the H210i has 3, allowing fans to pull in more outside air. Accessing the inside is as easy as any other H series cases, and removing both panels requires unscrewing 3 thumbscrews.
Behind the motherboard is the Smart Device V2 CAM controller, with a faster microprocessor controlling 2 HUE-2 RGB light channels and the system's fans. In essence, the control unit has up to 3 channels for fan control voltage 3-pin or PWM 4-pin fans with 10 watts of power. Moreover there is a 120 mm fan in the rear with a connection to the CAM controller.
One RGB LED strip comes with the case, but you can add more, similarly you can add RGB LED fans. An internal USB2.0 header and SATA connection power the Smart Device V2 and operates via the NZXT CAM software. A neat feature from the controller is noise and cooling measurement which allows you to look at the system details and optimize accordingly.
The I/O panel is on the top of the case with a 4-pin audio connector with a Y-splitter cable, a USB3.0-A and a USB3.1-C connector.
CPU Fan/Cooler
Inside you can fit a CPU fan size of 165 mm, so a fan like the Evo 212 CPU cooler from Cooler Master is no problem. To keep temperatures within the safe operating range of your processor, ensure you have plenty of fan support. Having the 2 NZXT Aer fans running in the front, and 2 x 120 mm on top and in the rear should allow adequate cooling.
Additionally there are 2 SSD trays over the lower portion of the CPU cooler backplate cut-out.
GPU
There is enough space to install a GPU up to 325 mm, there is 2 expansion slots close to the PSU shroud. However the top of the PSU shroud's mesh design allows intake of air for the GPU. The bigger GPUs will need air due to the tight space between the GPU and the shroud.
Also in the box is an extra grommet that fits inside the mesh above the PSU shroud to support a sagging GPU, just in case.
Cable Management
In general like most small cases, there is enough cable routing channels to make cable management look clean and tidy. The plastic cable management guide provides predefined channels to place cabling. In essence routing cable to and from the mainboard to various parts of the chassis is easy.
PSU
You have the choice between bays beneath the PSU shroud or using the tray that's on show. The shroud isn't part of the side panel, so you have ample room to show off your metallic SSD once the tempered glass panel is installed.
At the back of the H210i, it looks like a standard mid size chassis, but the mid section is missing below the second expansion slot to the PSU opening. From the top, we have the motherboard I/O shield cut-out adjacent to the preinstalled 120 mm fan opening. Due to the slot in the opening, there is up to13 mm of adjustment vertically.

The 2 expansion slot openings each have a thumb screw with a sliding plate to help secure the covers or a GPU. This area has a full-size opening but comes with an adapter plate allowing for installation of SFX supplies or smaller.
3 SSD's plus 1 will fit if you use the bottom mount on the floor of the chassis. Also 1 HDD 3.5" drive will mount on the floor of the chassis below the PSU shroud area.
Water Cooling
The case supports 2 x 120/140 mm fans or up to a 240 mm radiator on the front with push/pull fans, and for easier installation a removeable tray. Also 120/140 mm fan up top, and a 120 mm fan or radiator in the back. There are 2 x 120 mm Aer fans on the top and rear, but it's up to you where you want the fans.
Whether you go for soft or hard tubing, hard tubing of course has an aesthetic advantage. Soft tubing is better for flow because it does not have the big 90-degree bends in the loop. Another advantage is you don't need to disassemble entire sections of the loop to swap out components, like RAM, GPU, or the CPU.
Conclusions
On the positive side consider the NZXT H210i case if you want to build a SFF PC. Although It will only fit Mini-ITX motherboards, it's worth the extra cost if you want to put this on your desk. In particular this case can fit the larger dual-slot GPUs with the big fans.
Overall, the exterior is stunning with mesh filters on all the intake ports, and the PSU. You get pre-installed RGB lighting, along with the tempered glass side panel, adding character to your build. Who wouldn't want to show off all their expensive internals inside this good-looking chassis?
Even with the compact nature of a Mini-ITX case, this is not a super SFF case. Larger than competitor SFF on the market and worth a good look if you want compactness. On the other hand there is more room to organize cabling and install multiple SSDs and a large GPU.
Many features from the H series are abundant, such as cable management guides, removable cooling, and mounting trays to make installation manageable. The H210i allows excellent airflow for your hardware to run cool and RGB lighting makes it look great. What's not to like about this and easily one of the best-looking SFF cases on the market.
Finally a 2 year warranty.
2. Phanteks Evolv Shift 2
Form Factor: Mini Tower | Motherboard Support: Mini-ITX | Dimensions: 170 x 490 x 274 mm / 6.7" x 19.3" x 10.8"| Weight: 6.8 kg / 14.99 lbs| Radiator Support: 1 x 120 mm | I/O Ports: Top Power, D-RGB Color and Mode, Bottom 2 x USB3.0, Power | Drive Bays: 4 x 2.5", 1 x 3.5" | Included Fans: 1 x 140 mm | GPU Support: 335 mm / 13.2" | Cable Management: 19.05 mm / .75 " Panel | CPU 85 mm / 3.3" | PSU SFX, SFX-L.
The Phanteks Evolv Shift 2 and Shift 2 Air was released on November 23, 2020. I was originally going to write a blog on the Shift Air, but this will be phased out. Regardless, this is the tempered glass and air version of the original Shift which came out 3 years ago.
As you can see the timing of the release of these cases match the release of the newest GPUs to ensure they fit. Overall there are so many improvements to this vertical SFF case making this a better case to build in. I am not going to beat around the bush, if you are going to run the bigger GPUs get the Shift Air 2.
Features
The Evolv Shift 2 takes the original design, changes a few things and brings it up to contemporary 2020 requirements. Some of the features from before are: full case access from 360 degrees and dust filters on the top and bottom. Air intake is from the bottom and back, while exhaust is the top and front.
The Shift Air 2, uses high performance mesh fabric side panels, made of speaker mesh, allowing air to flow inside and out. Additionally there is an addressable-RGB with controller, better air filtration, a different layout, with room for the big GPU. Good improvements to help the builder put together in a tight case and still meet requirements for good thermal performance.
Phanteks includes 1 x 140 mm fan with addressable-RGB in the TG version. On the other hand the Air 2 has the mesh sides without the RGB fan, but includes the RGB controller. As you will see the top vent is a power light that has RGB.
CPU Fan/Cooler
Support for CPU fan coolers up to 85 mm high. Cooling the CPU, in most cases will use 120 mm AIOs, which will fit at the bottom of the case. For low noise consideration, a Noctua NF-A12x25 fan would work to keep noise levels down, especially for high-end Intel or AMD processors. Dual-fans will help, but make sure to use a grille for the intake fan, otherwise the cables will interfere with the fan blades.
GPU
The Shift 2 can fit larger 2.9 slot GPUs and can be up to 335 mm, 150 mm wide, and up to 2.9 slots, 59 mm thick. Similarly note the same I/O: the bracket has room for dual expansion slots, and GPUs with an I/O shield, 3 slots thick won't fit. Good thing is they are not a common item.
Important to realize, the tempered glass case will only work with up to an RTX 3070. Although the RTX 3080 will fit, the heat will take a toll with the TG side panel. Any GPU pumping out 250 watts, will trap heat with the glass panels, but with the mesh side panels should be fine.
Cable Management
Very clean cable management with smart cable routing options to create a clean interior. How to get to the case's I/O? Well, everything goes through the top of the chassis. Press down on the top panel and it pops open.
You'll see the rear I/O and thumbscrews to loosen and remove the case's paneling. Furthermore you can feed cables from the rear I/O panel, at the top under the top cover and out the back to your monitors and other hardware. Of course routing of external cables is because Phanteks chose to rotate the motherboard and put the rear I/O at the top.
PSU
Will fit both the SFX and SFX-L PSUs. SFX-L PSU will allow a 30 mm thick radiator. SFX PSU will allow a 45 mm thick radiator.
Water Cooling
Supports a 120 mm AIO cooler only, but for CPU cooling, consider a thicker 120 mm radiator instead of the thin radiator.
Conclusions
Perfect timing for the release of the Phanteks Evolv Shift 2 and the Shift 2 Air PC cases. These 2 cases surpass the previous Evolv Shift case series, with improvements in the design. Additionally, both of these cases are available as of now, early January 2021.
These cases have a vertical ITX chassis creating a smaller desk footprint in comparison to the standard ITX PC cases. They can fit into nearly any environment, being either a professional environment or a gaming environment. Also the thick tempered glass and tall-thin shape make it look absolutely stunning.
Although the tight internal space, makes it a challenging build, in the end, the result is worth the effort. The top and bottom of the case have filters and after removing the right glass panel, will provide access. Moreover, the Shift 2 Air is about $10 lower than the TG with an addressable-RGB fan.
Here is a workable build If your parts list include the following: Mini-ITX motherboard, 120 mm radiator,1 x 3.5" drive, and SFX or SFX-L PSU. Also a big GPU too, should work, but add another 140 mm at the bottom intake to aid overall cooling. If you have an interest for using the Shift 2 in your build, Phanteks has an excellent easy to use manual.
Check here to find general instructions and information on which hardware will and won't work. The Shift 2 cases have similar designs, available in both a satin black, and trademark anthracite grey color. Finally a 2 to 5 year warranty, main chassis 5 years, and all other parts 2 years.
3. Cooler Master NR200
Form Factor: Mini Tower | Motherboard Support: ITX m-DTX | Dimensions: 367 x 185 x 292 mm / 14.45" x 7.28" x 11.5"| Weight: 4.6 kg / 10.1 lbs| Radiator Support: 92, 120, 240, 140, 280 mm | I/O Ports: 2 x USB3.2 type A, 1 x 3.5 mm Audio/mic, | Drive Bays: 3 x 2.5", 2 x 3.5" | Included Fans: 1 x 120 mm, 1 x 92 mm | GPU Support: 315 mm / 12.40" | Cable Management: 35 mm / 1.38" | CPU: 155 mm / 6.10" | PSU: 130 mm / 5.19", SFX, SFX-L.
The Cooler Master NR200's volume size of 18.25 L qualifies it for a SFF case allowing for a wide range of cooling options and GPU configurations. Moreover a wide range of water cooling support if you want to build this way . The side panels are simple to remove due to the ball and socket retention mechanism at the top and a ledge at the bottom.

Conveniently each side panel is swappable, with the other side, so no worries which side is which. Also both side panels have ventilation holes along with the top and bottom and a magnetic dust filter to ensure clean airflow.
Features
The case comes in black or white color and made from steel, and plastic. Front I/O panel is plain and simple with 2 x USB 3.0 headers, power, reset switch and a mic/headphone jack. After power on, the power button lights up in the usual Cooler Master logo.

The internal headers are excellently thought out with the front panel heads in a binding tool that makes it a plug and play install if the board header is in the default layout, literally plugging in three cables and one.

There is 1 x 120 mm Sickleflow fan on the top and 1 x 92 mm Sickleflow fan on the rear both installed. Total fan support is 2 x 120 mm on top, 1 x 92 mm on the rear, 2 x 120 mm on the bottom (note recommend slim fans for GPU's wider than 2.5 slots). Finally fan support on the side is 2 x 120/140 mm.
CPU Fan/Cooler
The clearance for the CPU cooler is 155 mm, however, 76 mm with the GPU in the vertical position. On the motherboard side of the case there's a removable fan mounting system that allows you to increase intake air from that side. With the addition of up to a pair of 140 mm fans or a 240 mm radiator for an AIO for the CPU.
GPU
GPU length clearance is 330 mm with the power connector, height is 156 mm with power connector and width is 60 mm triple slot.
Cable Management
The backside of the motherboard is simple with enough room for managing cables from the fans.
PSU
The back of the motherboard is where you'll access the screws to remove the PSU shroud for mounting your SFX PSU or relocating the shroud to the front of the case. The clearance for the PSU is 130 mm, SFX or SFX-L.
Water Cooling
Single slot water-cooler GPUs or vertically mounted GPUs are recommended when using the bottom radiator position. The NR200 offers several options for mounting AIO Water cooling or full custom setups with pre-drilled mounts for pumps and radiators.
Radiator support on the top is not available, on the rear 92 mm and not compatible with vertical GPU installation. Also on the bottom 120, 240 mm recommendation for custom loops only. Finally on the side supports: 120, 140, 280 mm and not compatible with a vertical GPU installation.
Conclusions
The Cooler Master NR200 has excellent cooler thermals due to the design and layout of the case. Additionally more fans in the case, will drastically improve thermal performance, but will increase noise factor of your build. As you can see the case is very cost-effective, the panels are very thin and easy to bend, so be careful.
If you want to use a full size ATX PSU and you have access to a 3D printer, grab the file to make a short ATX bracket. The case is very easy to build in, and the compatibility is almost perfect. Good thing is there are are no concessions except for the size but overall a great case.
For those looking to display the interior, go with the NR200P over the NR200, but when you can install something like the GeForce RTX 3090 with a 16 core 32 thread CPU specifically the AMD Ryzen 3950X what more could you ask for?

Finally Warranty is 2 years.
4. Thermaltake Core V21
Form Factor: Mini Tower | Motherboard Support: M-ATX, Mini-ITX | Dimensions: 320 x 336 x 424 mm / 12.60" x 13.23" x 14.69" | Weight: 6.5 kg / 14.3 lbs| Radiator Support: 120, 240, 280 mm | I/O Ports: 2 x USB 3.0, 1 x Audio/mic | Drive Bays: 3 x 2.5"or 3 x 3.5" | Included Fans: 1 x 200 mm | GPU Support: 350 mm / 13.78" | Cable Management: Front or Use Imagination | CPU 185 mm / 7.28" | PSU 200 mm / 7.87".
The Thermaltake Core V21 doesn't have a top or a bottom or sides. Well it does but you can choose where they are, same with the front and the rear. Where exactly do you want it?
Put them exactly where you want them, one look and you will agree. Vertical GPU placement, vertical motherboard placement, not a problem. Also the side rails are also interchangeable, everything in this case is interchangeable,
Uniquely the key to making this case work is the modularity and interchangeability
Features
The V21 is a Micro ATX chassis made from SPCC with motherboard supporting: Mini ITX and Micro ATX. Also includes a big 200 mm front fan with drive support: 3 x 3.5" or 2.5" with HDD cage, 3 x 2.5" with HDD tray. Additionally 5 expansion slots, top panel I/O Ports: 2 x USB3.0, 1 x microphone, 1 x headphone, power and reset button.
The Thermaltake logo on the front is magnetic, which means you can turn it 90 degrees to whichever way you position the case. As I keep mentioning there is no up or down and the side panels are interchangeable.
CPU Fan/Cooler
Maximum CPU cooler fan support is 185 mm. Here are the rest of the fans: front: 2 x 120 mm, 2 x 140mm, 1 x 200mm, top: 4 x 120 mm, 2 x 140 mm. Also on the rear: 1 x 120 mm, 1 x 140 mm, bottom: 2 x 120 mm. Finally the left/right side: 2 x 120 mm, 2 x 140 mm.
GPU
Maximum GPU support is 350 mm, by turning the case you can take your pick of vertical or horizontal mounting.
Cable Management
Behind the motherboard plate, where the PSU is, unfortunately there is no real cable management. However you can route the cables through the front beside the big fan, use some imagination there are holes available. A few tie downs in key locations along the bottom of the motherboard plate would come in very handy.
PSU
Maximum PSU support is 200 mm with a fan, a modular or semi-modular PSU is highly recommended but not a requirement.
Water Cooling
This impressively customizable little square cube can house many designs, for example half the case housing your motherboard while the other supports liquid cooling. The modular radiator mounts are very innovative for installing radiators. The stack ability of the case opens up possibilities for some interesting build combinations.
Super liquid cooling systems, super gaming systems, along with each having it's own server. Radiator Support: front: 1 x 240 mm, 1 x 140 mm, top: 2 x 240 mm, 1 x 280 mm. Lastly the rear: 1 x 120 mm, and left/right side: 1 x 240 mm, 1 x 280 mm. A 200 mm radiator to the inside of the front panel will easily fit without any drilling or cutting.
Conclusions
The Thermaltake Core V21 is a stackable, SFF, tool-less case with large mesh panels with magnetic dust filters and a 200 mm front fan. Of course you'll want to add more fans to optimize the cooling and ventilation of the case. Symmetrical panels, modular fan rails and drive mounts mean many different configurations.
Not surprisingly, the only negative of this mesh design is a lack of noise absorption. The modularity of the V21 makes it a great choice for a custom paint job, without rivet removal. Cable management, route through the front or use your imagination, but it would be nice if PSUs came with longer cables.
What would you put into the V21? It has to be the easiest mATX case on the market to install in. Give it a try and see what I mean. Finally a 3 year warranty.
5. Corsair Crystal 280X
Form Factor: Mini Tower | Motherboard Support: M-ATX, Mini-ITX | Dimensions: 398 x 276 x 351 mm / 15.67" x 10.87" x 13.82"| Weight: 7.1 kg / 15.65 lbs| Radiator Support:
1 x 120 mm | I/O Ports: 1 x USB3.0 2 x USB2.0 1 x Audio/mic | Drive Bays: 3 x 2.5", 2 x 3.5" | Included Fans: 2 x LL120 mm | GPU Support: 300 mm / 11.81" | Cable Management:
19.05 mm / .75 " Panel | CPU 150 mm / 5.91" | PSU 180 mm / 7.09".
Not everyone must have the big case nor do you need a small case the size of a toaster. Sometimes you need something that has enough room for the high-end hardware without wasted space. With this in mind, Corsair has exactly what you are looking for in the Crystal Series 280X RGB.
Features
The Corsair Crystal Series 280X RGB is painted black inside and out. Steel, and plastic construction with tempered glass panels on the top, front and left side. Additionally measures 398 x 276 x 351 mm and weighs in at 15.65 lbs.
Underneath the top tempered glass panel are mounting locations for the 2 120 / 140 mm fans. At the edge of the steel on top is the I/O panel with power, reset buttons, 2 x USB3.0, headphone and microphone jacks. Front, roof, floor and PSU, every intake fan mounting location in this chassis is covered by large washable magnetic filters.
Overall, these filters do a very good job at keeping your system dust free and easy to clean. A dual-chamber design separates heat generating components such as the motherboard, CPU and GPU from other components like the PSU and drives. The design allows users to build compact, powerful systems with watercooling, dual GPUs, huge power supplies and many drives.
This type of layout is extremely clean looking with plenty of room for a variety of system builds.
CPU Fan/Cooler
The main component compartment is painted black to match the exterior, and can accommodate air coolers up to 150 mm in height. You'll also find a large hole in the motherboard mounting plate, behind the CPU socket area, to facilitate heatsink changes without removing the motherboard.
GPU
The main compartment will support GPUs to 300 mm in length, so there is plenty of room for the big ones.
Cable Management
3 large cable pass-through holes with rubber grommets in the motherboard tray are designed for cable management, but two of the holes are blocked when using a Micro-ATX motherboard. Additionally, there are 3 more cable pass-through holes with round metal edges in the bottom of the motherboard tray. The hole at the upper left hand edge of the motherboard tray is specifically designed for routing fan cables and the ATX12V/EPS12V power cable.
PSU
Surprisingly, Corsair lists the PSU length of 180 mm, but there's room for up to 200 mm with room to spare.
Water Cooling
Radiators and all-in-one coolers can be mounted in the top, front, bottom and rear of this chassis. The mounting locations in the front of the chassis support 120, 140, 240, and 280 mm radiators. Radiators and all-in-one coolers can also be installed in the exhaust-fan mounting location.
The front, rear and bottom locations all support dual-fan configurations (with the radiator sandwiched between fans in a push-pull configuration). The top mounting location, due to space limitations, is mostly limited to fans on one side of the radiator. The good news is that, regardless of where you mount your cooler, the extra exhaust fans should help to balance airflow.
Conclusions
The Corsair Crystal 280X RGB is an expensive chassis, unique and a cool way to highlight your computer, but worth the show. Uniquely 3 x tempered glass panels display your hardware like no other Micro-ATX case. To achieve good thermal results, you should factor in an all-in-one cooling solution.
For this reason additional fans will improve thermal performance, but will increase noise levels and lower acoustic-efficiency rating. This chassis is available in a non-RGB version for less than the RGB version, so you can buy your own RGB fans. Your choice of either black or white depending on what you like.
The Corsair Crystal Series 280X RGB is a great case that can accommodate builds from simple to wild and looks absolutely fantastic. The main downer is a price that's higher than its direct competition. If you don't mind paying the premium, the Crystal Series 280X offers quiet performance, beauty and adequate ventilation.
The only thing lacking in this case is the USB3.1 Type-C port. Finally the warranty is 2 years.
FINAL VERDICT
Make sure that the case you decide upon is big enough to house your hardware and with enough fans for cooling. After all depending on your goals for a small ITX system, it's either the best, or the worst. Jamming the hardware together so that the fans cannot blow and remove the hot air will cause thermal breakdown.
Not surprisingly if you that have not built a Mini-ITX-platform, you will notice how little space there is in comparison to a mid-tower. The problem as you can easily identify is the space issue. Take a few minutes to plan out the system hardware, then have a good look at which case fits your needs.
In essence all of the cases are timeless, whether you buy the case now or later, doesn't matter as long as the manufacturer makes it. If a mini towers using 1 GPU, 2 SSDs, and 2 HDDs will suffice, then you should be good using one of these chassis'. So In the end I hope this review of the best mini itx cases 2021 was beneficial to you.
One last thing, I thank you for reading and as always appreciate your comments.