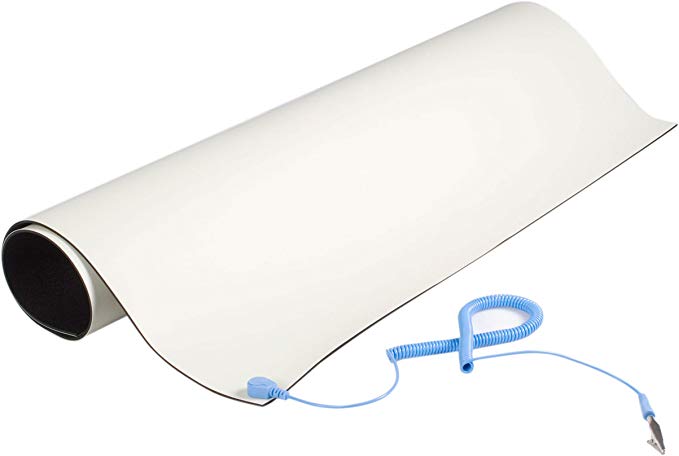 Anti Static Mat
Generally speaking, this information is for all of you that will be assembling, building, repairing or working on electronics/computers. With this in mind, I would strongly suggest that you get yourself an anti static mat.
What is an Anti Static Mat?
An Anti Static Mat is something that safeguards an individual or piece of equipment like a PC from Electro Static Discharge (ESD). Also, other names for anti static mat are: electro static mat or ground mat.

On the whole, a conductive material in the mat accumulates static and collects electricity. Therefore to discharge the energy it must be plugged into an electrical ground.
What is an Electro Static Discharge?
Ordinarily, some people will experience a shock when grabbing a metal doorknob after walking over a carpeted floor. However static electricity and ESD has been a problem for centuries.
Formerly, Europeans in the 1400s were using static control to protect accidental discharge of gunpowder stores.(1) The ESD phenomena can hit you when you least expect it.
The simple act of walking across a tiled floor can build up a static charge, even more if you decide to moonwalk over a carpeted floor.
Nowadays, all sorts of electronic and computer components are sensitive to static electricity or ESD, for example Motherboards, CPUs, GPU's and memory devices.
ESD is real
In fact, make sure you ground yourself, or you are likely to cause irreversible damage to your computer. You cannot see ESD damage, but it literally burns 'holes' through circuit boards on a microscopic level.
To emphasize, "zap" a board, and diagnosing any issue may be a problem. You might blame software, drivers, or an incompatibility, but do you want to spend the time trying to figure that out?
The reason the ESDA recommends attachment to an electrical ground is the anti static mats have a very high level of electrical resistance. In fact, 100 Meg Ohms to be exact.
In essence, the resistance will absorb and control the rate of static discharge and keep you safe. By and large, stray voltages are a thing of the past and will not leak through.
What do I need for ESD grounding?
1. Anti Static Mat and ground cord for your work area. See Computer Tool Kit.
2. Wrist strap with cord and attachment to mat.
3. Ground tester to verify electrical ground.
How do I ground my Anti Static Mat?
So let's put all of this together, you will need something to work on. For example, it could be a desk, bench, kitchen counter or on the floor.
1. Accordingly, take the ground mat and place it over the area where you will work, close to an electrical outlet.
2. Take your ground tester, plug into the electrical outlet and verify you have a good ground. In the final analysis, the ground tester will indicate a good ground or not. Accordingly, if you do not get a ground indication do not use until an electrician can hook up the ground.
3. Attach the snap end to the mat and the other end to the ground outlet that you just verified.
4. Take the wrist strap and attach to the snap on the mat.
5. Attach the wrist strap to your wrist and you are ready to do some work.
So the guru himself has finally come out with an esd video. Can static Kill your PC?Please check it out.
Note - A word of caution
Furthermore, when installing new parts, leave the electronics in the anti static foil and bring over to the anti static mat. Accordingly, open the foil over the mat and examine the electronic/computer board. On the whole, make sure you check the connections, is everything plugged in?
To point out, ensure your wrist strap is connected to your mat, similarily, the mat is connected to electrical ground. So, get into this habit each and every time you work on your computer, or any sensitive electronics. Cleaning your computer with a vacuum cleaner may produce static and is the same as from anywhere else.

Static has the same potential to do damage along with the nozzle breaking or loosening parts. Therefore be careful and use a mat to ground yourself and the nozzle. On the other hand use a can compressed air to blow out dust from your computer.
Lastly, water and electricity do not work well together so be careful with your drinks around your work area. On the positive side, may the Anti Static Gods be with you.
Above all, I appreciate comments and I thank you for reading.
Recommended Parts
Anti Static Mat
Protect sensitive equipment from static damage
Top technical specifications meet IBM & US military static control standards
Highest quality static dissipative material-not the ineffective conductive system
Sits under CPU/VDT and keyboard
Includes 10ft.(3M) grounding cord. Dimensions 24 inches (0.60m) x 27.5 inches (0.70).
Bertech Rubber ESD Soldering Mat Roll
2' Wide x 10' Long, Blue
by Bertech
Two layer mat: Blue rubber top, Black bottom rubber layer
Suitable for semiconductor/hard Disk drive industry, and other static controlled environments
Durable and reversible
Acid, chemical and heat resistant
Comes in Blue color
Wrist Strap
Resistance: < 10K Ohm (Wrist Strap)
Length of Grounding Coil Cord: 6 Feet, 1M Ohm 10% (Cord)
Attached self-coiling grounding cord grants freedom to move and freedom from tangles
Wrist band adjusts to varying sizes, Reliable static control and 360-degree protection
Extra-long Coiled Cord for Wide Range of Movement
Ground Tester
GENERAL USAGE: The Bastex socket tester allows electricians, handymen or the DIYer to properly check for correct wiring on US power outlets. The outlet tester is used to verify that the outlet can provide power to a device plugged into it. Also, allows for the check of trip function for GFCI. Colorful and bright Readouts will guarantee the correct diagnosis every time.
PRODUCT FEATURES: Made with standard U.S. Sockets in mind. The indicator legend is included on the tester for quick analysis. Includes a clear light up read out to properly diagnose correct or incorrect wiring for receptacles. Made standard for 110- 120V AC Outlets. Frequency (Hertz) 60Hz
DURABILITY: Hi-Impact Resistant housing. Made of hardened Durable plastic. Has a compact and ergonomic design with texted side design for grip.
INCLUDES: Socket Tester with GFCI test function built in
WARRANTY: 30 Day Money Back / 12 Month Replacement Warranty Included