2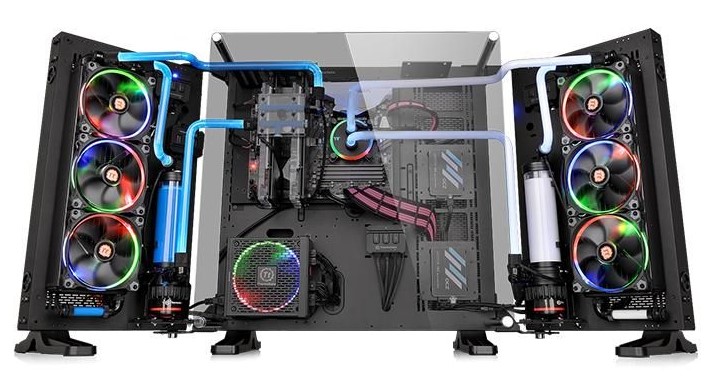 Best Open Frame PC Cases 2020
Will an open frame (open air) PC case work for you? In fact, yes, if you are looking for obstruction free airflow, easy to clean, and a cool open frame design. So, here is my review of the 5 best open frame PC cases 2020.
The open frame PC case design is an old industry standard, testers and developers use it as a jig. You can quickly and efficiently swap, benchmark, troubleshoot and test computer boards. On the other hand, you can use it to house your build and why not.
Of course open frame PC cases aren't for everyone, but uniqueness in case design makes building the system pleasurable. Moreover, if you're looking for an open frame PC case, this guide will give you an idea of what's available.
Comparison Chart
Table could not be displayed.
Best Open Frame PC Cases 2020
1. Thermaltake Core P7
While Thermaltake's Core P-series has made open frame cases popular, they are now a leader in open frame design. Thermaltake has five different model options, but we will discuss the flagship Core P7. Regardless, the Core P7 has been on the market for a few years and is still a great looking case.
Form Factor: Full tower | Motherboard Support: E-ATX, ATX, M-ATX, Mini-ITX | Dimensions: 627 x 333 x 1350 mm / 24.7" x 13.1" x 54.1"| Weight: 25.5 kg / 56.21 lb| Radiator Support: 3 x 480 mm | I/O Ports: 1 x Audio/Mic, 2 x USB2.0, 2 x USB3.0 | Drive Bays: 8 x 2.5"/3.5" | Included Fans: none | GPU Support: 280 mm / 11.0" With Reservoir, 570 mm / 22.4" Without Reservoir.
Thermaltake Core P7 Review
Thermaltake has become innovative with its case design over the years, and the Core P7 is no different. Although it is a fantastic chassis with a main section and 2 side panels for excellent water cooling support. In particular, other than aesthetics is this chassis right for you?
It depends on how you look at it and what you want to do, perfect for showcasing your hardware. The main middle section holds an E-ATX motherboard, 8 x 2.5" or 3.5" drives, and the power supply. Also enough space for a 480 mm unit radiator mount.
On top of that each of the 2 wings will house a 480 mm radiator along with a cylindrical reservoir/pump combo unit. This combination will provide more cooling power than you will ever need. So for you tweakers and modders out there, overclock and tweak to your heart's content.
The Thermaltake design is modular so that you can assemble/disassemble the entire case down to its individual piece. Additionally the wings (side panels) open the case up and mounts, in parallel with the case, or at 45°, 90°, and 270°. Moreover, the main section has a 5 mm piece of tempered glass to keep stray hands off.
Surprisingly the chassis weighs 25.5 kg / 56.2 lbs, and it measures 1.35 m / 54.1" wide open. Lastly, The Core P7 will not fit under your desk as it is part of Thermaltake's lineup of wall-mountable cases. However the case would look cool anywhere, even on the wall behind your monitor.
2. Cougar CONQUER
You either love or hate the design of the Cougar Conquer, now at version 2.0. For this reason we will discuss the original version 1.0 as it is much lower in price. The Conquer is a mid tower chassis using aluminum alloy open frame design, with tempered glass panels on both sides.
Form Factor: Mid tower | Motherboard Support: ATX, M-ATX, Mini-ITX | Dimensions: 255 x 580 x 685 mm / 10.03" x 22.83" x 26.96" | Weight: 10.6 kg / 23.4 lbs | Radiator Support: 120 mm, 140 mm, 240 mm, 280 mm, 360 mm, 420 mm | I/O Ports: 1 x Audio/Mic, 2 x USB 3.0 | Drive Bays: 4 x 2.5", 3 x 3.5" | Included Fans: 3 x CFD 120 LED Fan | GPU Support: 350 mm / 13.77"
Cougar Conquer Review
There is no mistaking the Conquer, the original design that resembles a futuristic gaming box in Safety orange. Uniquely, the aluminum motherboard tray is rotated 45° towards the rear of the chassis and supports M-ITX, m-ATX, and ATX motherboards. Moreover, the chassis features seven expansion slots, support for 350 mm GPU, 190 mm CPU cooler, and 220 mm PSU.
Additionally, the Conquer has mounting locations for up to 3 x 3.5" HHD and 4 x 2.5" SSDs. The chassis can support 3 x 120 mm fans in the top and 2 x 120 mm fans in the front (optional). Of course 3 x Cougar CFD 120 mm LED fans are included.
This case supports radiators and all-in-one coolers to 360 mm in the top of the chassis and 240 mm in the front. Also the I/O panel in front has 2 x USB3.0 ports and HD audio and microphone jacks. Comparatively, the Conquer is a large mid tower design 255 x 580 x 685 mm / 23" x 10" x 30".
The aluminum frame and panels are light, but the 2 glass panels make up most of the 10.6 kg / 23.4 lbs weight. Important to realize, the aluminum top panel is a good wind funnel and a great handle to lift the case.
Finally, for those of you that are looking for a unique and interesting case look no further. In fact, the Conquer is a chassis to showcase any kind of system builds, what do you think? After all beauty is in the eyes of the beholder.
The official statement from Antec is: Antec Striker-Mini Watercool, An Unprecedented Step We Took. In reality, Antec took it a step farther as the Striker is not plain, but a beautiful well engineered case. Uniquely besides the overall appearance, is the front mount GPU, which provides a one-of-a-kind look.
Form Factor: Mini Tower | Motherboard Support: ITX | Dimensions: 420 x 230 x 410 mm / 22.7" x 9.6" x 23.1"| Weight: 7.71 kg / 17.0 lbs | Radiator Support: 120 mm, 140 mm, 240 mm | I/O Ports: 1 x Audio/Mic, 2 x USB3.0, 1 x USB3.1 Gen 2 Type C | Drive Bays: 2 x 2.5", 2 x 3.5" | Included Fans: none | GPU Support: 330 mm / 12.9"
Antec Striker Review
The Antec Striker is a Mini Tower chassis that supports an ITX motherboard, 420 x 230 x 410 mm / 22.7" x 9.6" x 23.1". The bulk of the weight 17 lbs comes from 3 sides of tempered glass, CNC machined aluminum and SPCC steel. Additionally the white PSU cover on the bottom of the chassis makes the appearance look very cool.
Also if you want to match your PC build theme color the bottom panel can easily be painted. The I/O panel is on the front right side and includes a USB3.1 Type-C, 2 x USB3.0, dual 3.5 mm audio jacks and power button. Internally, the case is broken down into sections: motherboard, SSDs, radiator, GPU in front, and AIO water cooler or custom water cooler and fans.
Additionally, there is space for cable management to keep a clean and tidy look. The Striker supports 2 x 2.5" drives on the backside of the motherboard and ITX motherboards only.
On the negative side, for anyone with a bigger than Micro-ATX motherboard, it won't fit.
The GPU mount is adjustable to move up and down to meet different GPU height requirements, up to 12.9"/330 mm. For this reason, remember you have an ITX chassis, always double check specs and compatibility. Overall, the Striker will support 2 radiators, up to 240 mm on the rear and side.
Although the Striker is small, having 2 x 240 mm radiators should keep your computer cool and working fine.
4. InWin D-Frame
Surprisingly, InWin has quite the lineup of open frame cases and the D-Frame is no exception, now at version 2.0. Comparatively, its unusual construction, looks like a motorcycle frame that is unique enough to win over many computer enthusiasts. InWin has the Revolutionary 6 dimensional positions that you can place the case.
This means if you don't like it one way, position it another way by rotating the case 90 degrees.
Form Factor: Mini Tower | Motherboard Support: ITX | Dimensions: 482 x 305 x 668 mm / 19" x 12" x 26.3"| Weight: 5.25 kg / 11.6 lbs | Radiator Support: 120 mm, 240 mm | I/O Ports: 1 x Audio/Mic, 2 x USB3.0 | Drive Bays: 10 x 2.5", 5 x 3.5", and 2 optical drives | Included Fans: none | GPU Support: 330 mm / 12.9"
InWin D-Frame Review
The construction of the InWin D-Frame is from aluminum pipe and tempered glass and like most cases must be assembled. However building the chassis is tedious with hard to understand instructions, but with patience you will prevail. In effect, the best way to get through a build is hands-on, get down and dirty.
With the D-Frame together, we have a motorcycle skeleton of a computer case -- different I must say. The D-Frame measures 19" x 12" x 26.3" / 482 x 305 x 668 mm and can house PSUs as long as 220 mm. Also supports GPUs up to 330 mm and CPU heatsinks up to 160 mm.
On the top is a neat S shape aluminum carry handle to carry the 11.6 lb case. The front, has an I/O panel with five diagonal beams and a slot that allows access to the front panel connectors. Additionally, I/O connectivity includes a pair of USB3.0 ports along with two audio jacks for headphones and a microphone.
Further, the I/O includes a power and reset button, along with a power light. The top panel is similar to the front panel with the exception of no connectivity or fan mounts, but comes with 4 rubber pads. Identically there are 4 rubber pads that protect each of the sides.
The base panel is different from the top panel and the rear panel is the most unique which houses the PSU. The D-Frame supports 2 x 2.5", 3 x 3.5" drives along with a 5.25" optical drive. There is 4 x 120 mm fan mounts, however the fans are not included.
Hardware Installation A Breeze
Hardware installation should be a breeze because the open frame concept makes for easy access. Additionally there is an assortment bag of screws, ty-raps and cable clamps to keep things neat and tidy. Finally take your time with your build assembly as you will want to showcase your excellent work.
5. Wendry Open Frame Aluminum DIY Chassis
The full tower Wendry open frame aluminum DIY chassis represents the simplest design on the market. There are many companies that promote this concept of DIY and therefore lack features of expensive cases. As Wendry states putting together a chassis is DIY fun, then again, I absolutely agree.
Form Factor: Full tower | Motherboard Support: ATX, M-ATX, Mini-ITX | Dimensions: 577 x 243 x 586 mm / 22.7" x 9.6" x 23.1"| Weight: 14.39 kg / 31.7 lbs | Radiator Support: 240 mm | I/O Ports: none | Drive Bays: 1 x 2.5", 1 x 3.5" | Included Fans: none | GPU Support: 330 mm / 12.9"
Wendry Open Frame Aluminum DIY Chassis Review
The Wendry open frame aluminum DIY chassis supports the following form factors: ATX, M-ATX, and ITX. Of course the open frame nature allows for good heat dissipation and comes in a red or black frame. After assembly the dimensions are 315 x 246 x 353 mm and weighs a light 4.14 lbs.
Next, the chassis supports 1 x 2.5" and 1 x 3.5" drives and radiator up to 330 mm. On the positive side, the chassis conveniently comes with a handle for quick transportation anywhere. Above all, the chassis comes with all of the parts you need to put together the frame.
Also there is a Start - Restart Switch and Indicator, but does not include an I/O panel. However you can order an I/O panel for any case to match your motherboard connectivity, see the Hima, below. In brief, the chassis is easy to assemble/disassemble, layout the parts and follow the instructions.
Finally, if you take your time you should easily be able to put it together without the instructions.
Hima USB3.1

Front Panel Hub With Audio
FINAL VERDICT
For you enthusiasts, completing an open frame PC case could be crucial to finishing off a stunning looking build. Uniquely, the concept has been around for some time and gives you a complete view of your system. Furthermore, the design can make a plain build look absolutely outstanding and showcase your creativity.
The advantages of an open air case are mostly aesthetics, but there are a few other benefits to note. Above all, the free flowing air gives your system better thermals and excellent heat dissipation. One thing to note is the lack of protection from your surroundings especially kids, pets and girlfriends/wives.
Cleaning an open frame with a vacuum may be easy but always use an anti static mat to eliminate ESD. Open frame cases are perfect to house: liquid cooling, fans only, testing and developing and anything else imaginable. In most cases, the open frame design is lower in price than other cases for those on a budget.
Overall I truly hope this quick review of the best open frame PC cases 2020 was able to help you. Finally, I thank you for taking the time to read this post. Further please let me know what you think in the comments.