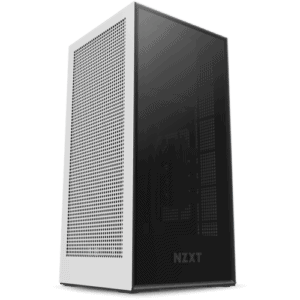 NZXT H1 Safety Issue
For those of you that are not aware the NZXT H1 has a safety issue. Yes the NZXT H1 Safety issue is now in the spot light brought to the forefront by Steve and company at Gamers Nexus. Everyone knows Steve and if you do not check out the video below.

The NZXT H1 Mini-ITX chassis came out on February 25th, 2020. A small form factor
mini-ITX case that comes with an SFX-L 650w 80+ Gold PSU, 140 mm AIO, and PCIe riser
card pre-installed for a simple building experience. List price was around $349.00.
All in all accolades from the enthusiast community for its great simplistic looks, excellent cooling capabilities and complete all in one package. Unfortunately, unknown to us, the PCIe riser cable can potentially cause a fire, so in haste NZXT recalled the chassis. NZXT did offer a quick fix, replace a metal screw with a nylon screw, but unfortunately this did not solve the problem.
Kudos to Steve
So Steve from Gamers Nexus did a little more digging to show that it wasn't the screw, but the PCB design of the riser cable. In detail there is a 12 volt trace in the riser cable that is very close to the screw location. So it does not matter whether the screw is metal or plastic, removing and inserting the cable a few times, will degrade the shell of the PCB.
This will expose the 12 Volt trace and potentially cause a short circuit. Thus if any of you understand electricity, when the 12 volt positive touches ground, lots of amps will flow. This means it will get very hot and will cause a fire especially in plastic.
Unless a fuse in the PSU or the AC line blows, the current will continuously feed the fire. For those of you that are thinking of getting an H1, well they are now discontinued until further notice.

Here is a link to an apology from the CEO at NZXT Johnny Hou
Next Up
The NZXT engineers are furiously reworking the PCIe riser cables so they can ship them out ASAP. So for those of you on the replacement list and have received the nylon screw, hang in and you should get a new riser cable soon. For those of you that have an H1, and have not taken action make sure you check out the link above for further instructions.

Sadly the H1 is temporarily discontinued, but a warning, suppliers may be clearing out the H1, so take note of the riser cable. This is a small blip in the progress going forward for the company. I really feel for NZXT because in my opinion they make excellent products.
NZXT will quickly get past this setback and will get back on track with there great products. Please check out my other blogs and I thank you for reading.
One last thing let me know what you think in the comments.