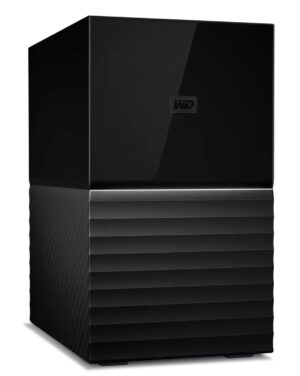 Best External Backup Hard Drives
Are you running out of space on your computer internal drive? Do you need some extra storage space for your pictures, videos and games? External hard drive backup space has never been cheaper, here are the best external backup hard drives of 2021.
You can open an iCloud storage account and get 5 GB for free, if you need more the cost starts at $.99 for 50 GB per month. Problem of storing pictures, videos and games can chew up space on your internal drive very quick. Nowadays the price of a 1 TB hard drive will cost around $50 give or take a few $ and as the capacity goes up the price comes down.
There are so many hard drives on the market, and picking one is a hard thing to do. Stay with a brand name hard drive and if it fails within the warranty period at least you will get it replaced. Additionally, some drives have warranties for a year to recover data if the drive fails.
Desktop or Portable
For those of you that have a large media collection of photos and videos, then you will need at least several TB of space. So in that case, your best option is a desktop-class hard drive with one or more spinning-platter drives along with external AC power. In most cases the enclosure will sit close to your computer on your desk.

Moreover a desktop drive with a single platter typically uses a 3.5-inch drive and comes in capacities up to 18TB. In contrast, this number is changing almost on a daily basis as we speak and range in size starting at about 5" x 2". On the other hand on a smaller scale are portable drives.
Comparatively the same type of hard drive uses the same kinds of platter mechanisms as their big brother. These are 2.5" drives, but actually just a bit wider. Of course almost any portable 2.5" platter hard drive will easily fit in your pocket or in a purse.
In this case these small portable drives get their power from the computer connection, through the USB interface cable. The RPM of each of the drives vary anywhere from 5400 to 7200 as set by the manufacturer.
USB 3.0
USB is a Universal Serial Bus standard, released in November 2008. New computers and devices support this standard, which is often referred to as SuperSpeed USB. Devices that adhere to the USB 3.0 standard can theoretically transmit data at a maximum rate of 5 Gb/s (5,120 Mb/s), but in reality 3,200 Mb/s is the norm.
Important to realize USB 2.0 has a maximum transfer speed of 480 Mb/s. USB 3.2 is the latest and an updated version of USB 3.1 (SuperSpeed+) and is the fastest USB standard. It increases this theoretical maximum speed to 20 Gb/s (20,480 Mb/s), while USB 3.1 comes in at a maximum speed of 10 Gb/s (10,240 Mb/s).
Unsure if a device, cable, or port is USB 3.0? Then look at the plastic surrounding the plug or receptacle, if it is blue then it is USB 3.0. The USB 3.0 specification recommends the color blue to distinguish cables from those designed for USB 2.0.
Where am I going with this note on USB 3.0? Although there is a maximum speed of 5 Gb you will never attain this transfer speed with a mechanical drive. The fastest realistic speed may be in the order of 100 Mb/s to 150 Mb/s.
Comparison Chart
Table could not be displayed.
1. Seagate Portable 2TB External HD
Specifications
1TB - 5TB Of External Storage
5400 RPM
USB 3.0 with cable
Plug and Play
Windows 7, 8, 10, PS4, and Xbox compatible. Linux and mac need reformatting
1 Year Limited Warranty and 1 Year Rescue Data Recovery Services
Dimensions: 4.6" x 3.15" x 0.58" / 116.84 x 80.01 x 14.73 mm
No Security or Backup Software
Details and Features
The Seagate Portable 1TB to 5TB External Portable hard disk drive is simple and cost effective, works straight out of the box for Windows 7 to 10. No external power adapters as it works from the USB 3.0 cable which comes with the drive. For Linux and Mac you will need to format the drive to match up your operating system.
The plug and play capability is very handy for Windows users simply plugin and you are ready to start your backups. Moreover the drive is small and portable enough that you can take with you anywhere you go. Unfortunately this is the barebones drive so it has no security or backup software.
Also you have peace of mind with the 1 year limited warranty and 1 year rescue data recovery services.
2. WD 5TB My Passport Portable External HD
Specifications
1TB - 5TB Of External Storage
5400 RPM
USB 3.0 With Cable
Plug and Play
Windows 7, 8, 10, PS4, and Xbox compatible. Linux and mac need reformatting
WD Discovery, and WD Backup software
256-bit AES Hardware Encryption with WD Security™
Dimensions: 1 TB - 2 TB - 4.2 x 3 x .44" / 106.7 x 76.2 x 10.16 mm, 4TB - 5 TB - 4.2 x 3 x .75" / 106.7 x 76.2 x 19.1 mm
2 Year Limited Warranty
Details and Features
The WD My Passport ranges in size from 1 TB to 5 TB and weight varies with its capacity. All 4 versions have the same 4.2 x 3" footprint, but the 4TB and 5TB drives are 0.75" thick. On the other hand the 1TB and 2TB devices are a much slimmer 0.44" thick, and much lighter
(4.3 ounces versus 7.4 ounces).
Good to know that the 5TB drive will easily fit in your shirt pocket and WD says it is the slimmest 5TB drive in the company's portfolio. Works straight of the box for Windows 7 to 10 and with a simple password will setup 256 bit encryption. The same holds true for Linux and Mac users you need to reformat the drive for the correct operating system.
WD Security
To take advantage of the encryption, install and launch the WD Security app that's on the drive, enter a password, and optionally add a password hint. Every time you connect the drive to a computer or reboot, it will prompt you for the password before you can access your data. Also you have the choice to unlock the drive for computers you use regularly, but forgetting the password, and unfortunately it is lost.
So write it down otherwise you need to reformat the drive and start from scratch. The default setting will help you remember the password by forcing you to enter it whenever you login on a regular basis. As a bonus the Windows and Mac versions of the drive come with assorted utilities. However after reformatting the drive, you will need to go to WD website for the files.
WD Drive Utility
The WD Drive Utility lets you reformat, diagnose and manage the drive. WD Discovery allows you to download data from cloud storage and social media accounts. WD Backup, for
Windows allows back up to Dropbox as well as the My Passport drive. For the Mac, it relies
on Apple Time Machine for backup.

Another bonus is that WD Discovery lets you download Paragon drivers at no charge, which
will let you use an NTFS-formatted drive with a Mac or one formatted with HFS+ in Windows.
WD Discovery tells you if you have a mismatched format to your computer, then you'll see an option to download the appropriate Paragon driver.

Overall the 5TB WD My Passport performance is on par with the competition for a 5,400 RPM drive. The built-in hardware encryption and bundled utilities makes it the perfect drive. If you need 1TB or 2TB of storage, it can easily go toe to toe with the Seagate Portable External and of course price wins all of the time.
3. LaCie Mobile Drive 5TB External HD
Specifications
1TB - 5TB Of External Storage
7200 RPM
Ready for both Mac and Windows out of the box. No need to reformat
USB 3.0/3.1 Gen 1 Connectivity, USB 3.1 Gen 2 Connectivity
Connect to legacy laptops via USB 3.0 to USB-C Reversible USB C
All-aluminum build feels light yet solid
LaCie Toolkit software - one-click backups, and folder mirroring across multiple devices.
Dimensions: 1TB - 2TB - .39 x 3.46 x 4.79" / 10 x 87.8 x 121.6 mm, 4TB - 5TB - .79 x 3.59 x 4.88" / 20 x 91.2 x 124 mm
1 free month of Adobe Creative Cloud All Apps Plan
2 Year Limited Warranty
Details and Features
The LaCie Mobile 1 TB - 5TB supports both USB 3.1 Gen 1 and Gen 2 connectivity, and backward compatible legacy devices. The moon-silver color is a sleek looking, anniversary edition very light aluminum case. USB Type-C Mobile Drive from LaCie offers enhanced connection options making it easy to plug this hard drive into a variety of computer configurations.
Users benefit from the data transfer rates up to 5 Gb/s and 10 Gb/s with the USB Type-A cable. The LaCie Toolkit software allows you to perform one click backups and folder moving. Surprisingly, the drive is ready for plug and play for Mac and Windows right out of the box.
Finally the drive comes with a 2 year limited warranty and 1 free month of Adobe Creative Cloud.
4. WD 12TB Elements Desktop HD
Specifications
3TB to 18TB Of External Storage
7200 RPM
USB 3.0 with Cable
135 x 48 x 165.8 mm
AC power Adapter
Windows 7, 8, and 10 compatible. Linux and mac need reformatting
No backup software
Dimensions: 5.3 x 1.9 x 6.5" / 135 x 48 x 165.8 mm
2 Year Limited Warranty
The WD 12 TB Element ranges in sizes from 3TB to 18TB and is your basic storage device, lower in price, but with the same WD quality. Up to 7200 RPM platter will provide speedy read and write cycles. Additionally, comes with a USB 3.0 cable, which is backwards compatible with the slower USB 2.0 standard.
Out of the box it is ready to go with Windows 7 to 10 but will need reformatting for Mac and Linux. Unfortunately, does not come with the WD software, but is perfect for straight backups. External power is via an AC adapter which is provided.
Above all a great drive for external storage, if you are looking for a big drive for a very good price look no further. Lastly, there is a limited 2 year warranty.
5. WD 24TB My Book™ Duo Desktop RAID USB 3.1
Specifications
Up to 28TB and coming in the future 36TB Of External Storage
5400 RPM
RAID-0 out of the box and up to RAID-1 configurable
AC Power Adapter
Includes both USB Type-C to Type-C and Type C to Type-A cables
WD Discovery, and WD Backup software
256-bit AES Hardware Encryption with WD Security™
Windows 7, 8, and 10 compatible. Linux and mac need reformatting
3 Year Limited Warranty
Dimensions: 6.3" x 3.94" x 7.09" / 160.02 x 100.08 x 180.09 mm
Details and Features
The My Book™ Duo drive has up to 28TB and in future up to 36TB of massive storage capacity. The drive is RAID-0 ready out of the box in default mode and can configure to RAID-1 as necessary. RAID-1 is a redundancy data mirroring mode using 2 drives. Also you can use It as two independent drives with the included WD Drive Utilities™ software.
RAID-optimized firmware is the perfect solution for two-disk array systems, ensuring perfect read/write cycle and data integrity. There are 2 USB 3.0 hub ports, compatible with USB 3.1 and USB 3.0/2.0, working to deliver high-speed connectivity no matter which interface. Includes both USB Type-C™ to Type-C and Type-C to Type-A cables.
The drive serves as a multi-docking station with 2 x USB 3.0 Type-A hub ports for accessories, including additional storage, keyboard, mouse, card readers, USBs, or phone sync and charge. Additionally the My Book™ Duo drive comes with 256-bit AES Hardware Encryption with WD Security™ software to help keep private content secure. Simply setting a password activates the hardware encryption and data protection.
Finally you have the same features from the WD Passport and on top the RAID feature. My preference is to set the configuration to RAID 1 that way you have a mirror of each drive in case 1 fails.
FINAL VERDICT
There are external drives that go that extra mile, along with storing data, some include SD card readers to offload video from a camera. Then there are models that have Wi-Fi capability and can double as an all-in-one home media server, with connections to multiple devices. To make sure that you protect your computer and external hard drive investment check out the UPS guide.

The drives on this page will get you going in the right direction, and are the best external hard drives (platter-based models) in my opinion. Have a good look at each as the manufacturer shows these in a wide range of capacity options. There should be a size and price for your needs.
To emphasize I suggest that you always duplicate your backups with an extra drive so that you have a duplicate of the backup. However if you go with the RAID 1 setup then there is no need for the duplicate. In essence until you have a drive crash and lose your data will you know the severity.
Here's a tip, when you pickup one, always pick up an extra drive, because there may be instances, heaven forbid, where you lose a drive and cannot retrieve the data. So I hope that my review of the best external backup hard drives was able to help you. I thank you for dropping by and reading.
One last thing, I appreciate all comments, let me know which hard drive you like or if you have had any hard drive disasters.