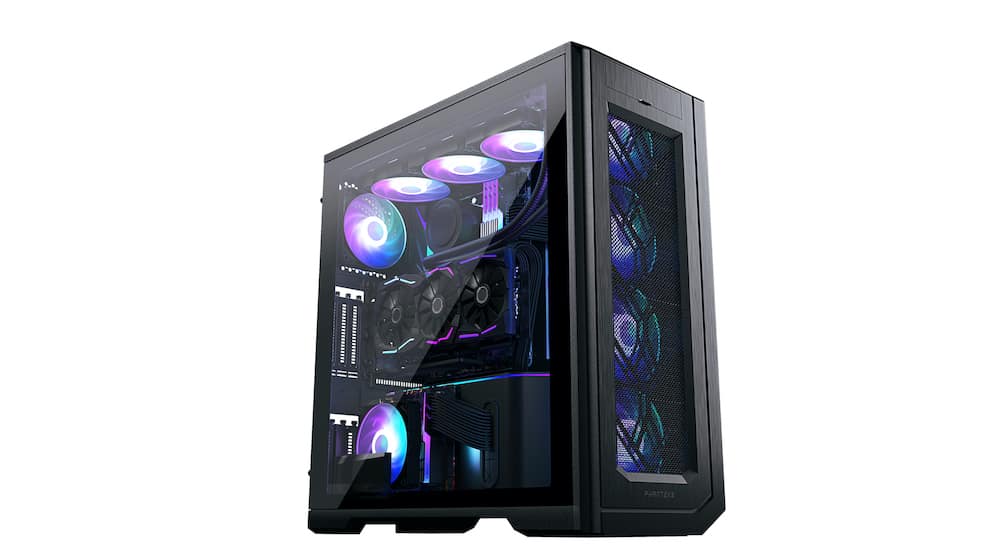 Full Tower PC Case Or What
So you are going to build a pc which size case do you pick? Do you chose a full tower pc case or what – does size really matter? In my opinion the answer is obvious, you must absolutely have a full tower case as a minimum.
However, if you do not have the space or cash for a full tower then you buy what you can. I understand. I am not providing a review of the cases but a simple comparison of the different sizes of cases.
Let's have a look at the case sizes and determine how size and other factors make a difference.
Size
Big cases are built like Panzer tanks, made of steel, aluminum, with plastic and rubber thrown in, lasting for years. Accidentally knocking your chair into it, may dent or cause a scratch, but you probably won't notice it. For the most part a big chassis is heavy and you won't need to worry about someone stealing it.
Although a hand truck would make it easier to move around or put some wheels on it. No need to worry about the case taking space on your desk because it will sit on the floor. The main advantage is room for numerous components and cooling solutions for the most powerful builds.
The best benefit of big chassis is that you can put any hardware inside. For those of you looking for deals and who isn't, upgrades and fit are no problems. For those who are running older ATX motherboards, use the extra PCI-E slots for a sound card and 10 Gigethernet card.
Trying to position a board or screwdriver in a mini case will usually produce cuts on my hands and arms. On the other hand a full or mid tower has plenty of room to move without worrying about cuts. Full tower cases can be heavy and working on and positioning can sometimes be a problem.
In general, mid towers are lighter and much easier to work on. As the chassis size decreases so does cooling solutions, expansion of components and motherboard options. Additionally, any tweaking, modding, overclocking and liquid cooling, will eliminate a Mini Tower chassis.
Price
Does size have anything to do with price? Yes, but additional factors to consider are design, aesthetics and functionality. Moreover, use the Comparison Chart and you will see that the additional factors add to the cost.
For the most part mid tower cases are all over the place and always have add-ons that add up. In order to find a brand name full tower case you usually must spend $150.00. One thing you will not see is a budget brand name full tower case, if you do let me know.
Although the Keiders is an Open Frame case, it has plenty of parts to make it a very functional and worthwhile case. For those of you that want a plain case with no features you should be able to find a budget $50.00 case. Make sure that the case has at a minimum a fan or 2 otherwise parts will get hot.
Aesthetics
Does looks matter? Not if it is all metal and you are going to hide the chassis under a desk out of view. As ITX boards become almost as powerful as the ATX counterparts, the size is perfect for media and home theater computers.
The chassis is usually small and plain, fitting out of sight under a desk or in a cabinet. Although, If you chose any of the cases in the Comparison Chart then of course it matters. With all of the glass you will need to showcase everything from RGB lighting right down to the zip ties.
Most of the cases on the market come with glass unless it is a budget case. A larger case usually has more on the I/O port, of course you will want the latest technology - USB-C and USB 3.0.
Look at cases above the $100.00 mark, in this range you will find quality and a unique selling point to buy. Above all, a useful feature is the carry handle, which is seen on many cases. Although a handle is simple it is very useful and makes the computer instantly portable.
Summary
In essence I like a full tower case, however this doesn't mean it is your best type of case. In the end, the best case for the job is the one that best suits your build. If you want an ITX LAN gaming system to take to your friend's place then, buy a mini-tower case.
However are you still in doubt? Do you want a dual-motherboard system for gaming and streaming, then check out the Corsair Obsidian 1000D. Although, the full tower case is heavy, takes up a lot of space and costs more, it is easier to work on and perform upgrades of any kind.
Plan for the future, invest now and then you won't have to budget for future chassis upgrades.
I appreciate all comments. In fact, I thrive on comments, stick to the subject and we can discuss any issues. I hope that full tower pc case or what was able to help you find a chassis.
Feature Image - Courtesy of Phanteks Enthoo Pro2TemperedGlass.