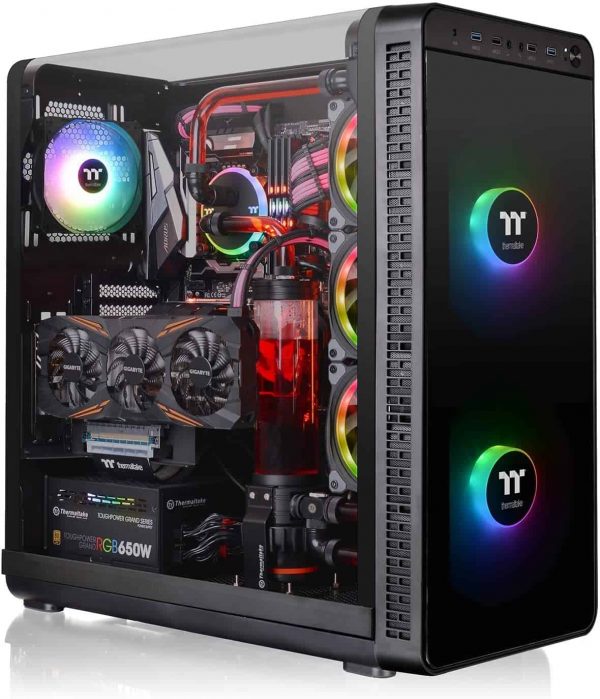 Best Mid Tower Cases 2020
There are hundreds of mid tower cases on the market and is by far the best selling size of case. The main reason is because it has enough room to support the ATX motherboard and multiple expansion cards. So here is my review of the best mid tower cases 2020.
For the most part the cases that I have chosen range from old to new and should have enough features to aid you in your build. I hope that you can make room in your budget for one of these cases. So have a look and please let me know what you think.
Comparison Chart
Best Mid Tower Cases 2020
1. Phanteks Enthoo Evolv X
Form Factor: Mid tower | Motherboard Support: E-ATX, ATX, M-ATX, Mini-ITX | Dimensions: 240 x 520 x 520 mm / 9.5" x 20.5" x 20.5"| Weight: 15 kg / 33.7 lbs| Radiator Support:
120, 140, 280, 360, 420 mm | I/O Ports: 1 x USB3.1, 2 x USB3.0, 1 x Audio/mic, Power, D-RGB Mode and Color | Drive Bays: 9 x 2.5", 10 x 3.5" | Included Fans: 3 x 140 mm | GPU Support: 435 mm / 17.2" | Cable Management: 22 mm / .87 " | CPU 190 mm / 7.4" | PSU 320 mm / 12.6".
Phanteks is one of the best chassis manufacturers on the market, releasing one award-winning case after another. Although the Enthoo Evolv X has been out for a couple of years, it is still a fantastic case. Additionally, the chassis features robust cooling mounts, removeable dust filters, and glass to highlight your hardware.
Features
The Phanteks Enthoo Evolv X, dimensions are 240 x 520 x 520 mm, weighing in at a not so light 33.7 lbs. Also room for an E-ATX motherboard, 7 expansion slots, plenty of storage and support for 120/140 mm fans, and up to 360/420 mm radiators. Moreover, there are 3 x 140 mm fans that are installed in the case.
There's loads of accessories that come with the case and optional, available for purchase. Additionally, In the box is an airflow cover that prevents air recirculation if you install 2 fans in the top. In essence prevents air backflow into the case since there is not much ventilation.
Also the Evolv X is dual system-capable, with an upgrade kit, for mounting a mini-ITX motherboard in the roof. Hence with space for a GPU using a riser cable and a removable plate for a second I/O Panel. On the whole there is plenty of space for your high-end hardware.
To point out the side panels open conveniently, without the need to unscrew them. Another key point are removable dust filters at the bottom and in the front of the chassis. The interior is modular and there is a nifty RGB LED controller.
CPU Fan/Cooler
The Evolv X will house a CPU fan cooler of up to 190 mm in height. The cut-out for the cooler's backplate is large enough to not cause interference during installation.
GPU
You can install a GPU up to 435 mm in length with the HDD cages. An anti-GPU sag bracket, helpful for the bigger air-cooled cards and vertical GPU mount come with the case. However, the riser cable for this is sold separately.
Cable Management
There are 2 metal covers to hide the cables under, which allows a glass panel on this side as well. Also, there is about 22 mm of clearance for cables behind the motherboard, which should be enough for any install.
PSU
A PSU shroud is the standard for most cases nowadays, and it hides the wires coming out from the PSU. As for the PSU, installation is simple because a bracket goes in from the rear of the case. In fact there is support for up to a 320 mm PSU.
Water Cooling
There is robust water cooling support, you can fit a combination of radiators of up to 420 + 360 mm. Optional accessories from Phanteks includes a pump bracket available for purchase.
Conclusion
The Phanteks Enthoo Evolv X is a great-looking chassis that can fit up to an E-ATX motherboard. It's definitely not small, but will fit 420 + 360 mm radiators, or 190 mm air coolers, and up to 435 mm GPU. Using the default storage setup, you can install 4 x 3.5"/ 6 x 2.5" drives.
Additionally more space for SSDs and HDDs using optional brackets that you can purchase from Phanteks. The combination of features and performance is better than the market average. The front I/O panel, which is on the front, is convenient if you put the case on your desk.
The I/O panel has a contemporary USB3.1 Gen 2 Type-C connector. Although the Enthoo Evolv X is not cheap, factor in RGB lighting and good cooling performance, so consider the investment. In summary it deserves a "Best Pick" award for all of the excellent features.
It has one of the best cable routing systems, excellent water cooling and storage support out of the box. Moreover it it can house a second system, similar to the Corsair 1000D, but is a much smaller case.
Overall these cutting edge features make the Evolv X one of the best chassis on the market. Lastly, not that you will need it, but it comes with an outstanding 5 year warranty.
2. NZXT H710i ATX Mid Tower
Form Factor: Mid tower | Motherboard Support: E-ATX, ATX, M-ATX, Mini-ITX | Dimensions: 516 x 230 x 494 mm / 20.30" x 9.1" x 19.40"| Weight: 12.3 kg / 27.11 lbs| Radiator Support:
120, 140, 280 mm | I/O Ports: 2 x USB3.2, 1 x USB3.1, 1 x Audio/mic, | Drive Bays: 2 x 2.5", 7 x 3.5" | Included Fans: 2 x 120 mm, 1 x 140 mm | GPU Support: 413 mm / 16.3" | Cable Management: 19.05 mm / .75 " Panel | CPU 185 mm / 7.30" | PSU 250 mm / 9.84".
The NZXT H710i is iconic in the H Series of cases and is NZXT's best-selling line of cases. To emphasize, features galore to improve connectivity, easy to build, and great looking. The Smart Device V2 controller module, with NZXT's CAM software controls all the lighting and fans inside.
CAM is NZXT's PC monitoring and controller program contemporary and intuitive to use. The configuration has many options of changing the color output of the RGB LED strips or setting up fan profiles. For example changing the RGB LED strips color with respect to increasing CPU temperature.
Features
Also 3 fan channels support either voltage regulated or PWM fans. 2 Aer F 120 mm fans for optimal internal airflow and the front and PSU intakes include removable filters. Easy access to the side panel with the push of one button and the side panel removes, but the glass side does use a thumb screw.
Ventilation is good and plenty of space for an E-ATX or full ATX motherboard.
CPU Fan/Cooler
The large motherboard tray cutout will easily fit an installation of any aftermarket CPU coolers about the size of a Noctua NH-D15.
GPU
Highlight your GPU, with 413 mm of space enough to fit most of the bigger newer ones and installs vertically. Unfortunately the PCIe riser card does not come with the case, ordering from Phanteks might be a good bet.
Cable Management
In particular, those of you that have an obsession with cable management, this case is for you. Specifically it has velcro straps and channels to organize cables in a multitude of any which way you want.
PSU
For those with 3.5" HDDs, a small rack for 2 drives is available in the lower chamber. An extra 1 can go on top, another on the floor for up to a total of 4. A PSU of up to 250 mm will fit with the rack installed. Removal will open the case and now has space of 400 mm or so. Plenty of space for the biggest PSUs on the market, if and when 1 becomes available.
Water Cooling
Specifically a front bracket designed for radiators up to 280 mm makes installing water-cooling simple. This case has room galore for those of you that want to go this way.
Conclusions
The NZXT H710i has an outstanding cable management system, removable fan/radiator mounting brackets, and easy-to-use drive trays, make this a builder's dream. Front I/O USB Type-C Port and Type-A port make this one of the Best High-End ATX Case's. Also the NZXT Cam controller is great for RGB LED lights and fan control.
You can do many different things, simple individual LED change or classic spectrum waves with respect to your music. Simply sit down and take a few minutes to try different settings and play with it. To point out another key feature are removeable filters on the PSU and front intake.
Also 2 x 120 mm on the front and 1 x 140 mm fan on the back are included. On the negative side there is no PCIe riser cable, but orderable from another vendor like Phanteks. Finally the Warranty for this chassis is 2 years.
FINAL VERDICT
Computer case designers are left with very little room for innovation since they all do the same thing. Creating new ideas is hard to do especially when most avenues have been explored. Innovation inside the pc case division is necessary in a market overflowing with numerous models, styles and sizes.
The addition of glass panels always adds a hint of professionalism that will never be the same as acrylic. However doing something different like a gull wing bend, will obviously make it special. Note the clearance options inside a chassis are necessary to determine whether specific hardware will fit or not.
The features that you must keep in mind are CPU fan space, GPU space, motherboard support, and PSU size. Also you will want the I/O panel to support USB3.0 at a minimum, along with audio and power. Additionally, you can always add USB3.1 support to your case by going here.
Surprisingly for some reason PCIe riser cables do not come with some cases so watch out for that. Finally, I hope this review of the best mid tower cases 2020 was able to help you. I thank you for reading and as always appreciate your comments.
If you have a case in mind, agree or disagree with me, please let me know.