2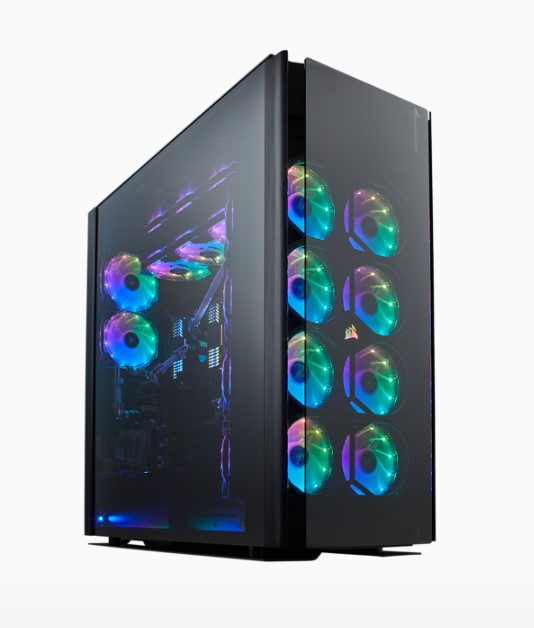 Corsair Obsidian Series 1000D Review
In reality, you are probably saying to yourself why the f#$% would anyone want one? Well, my answer is simple because you can do so much more with it. Not surprisingly, this Super Tower Case from Corsair is the biggest and baddest of their production cases on the market. So here is the Corsair Obsidian Series 1000D review.
Corsair Obsidian Series 1000D Super Tower
Although it came out in May 2018, it will soon be a couple of years old, for those of you that need room, here it is. As can be seen, the case is big enough for 2 computers and will easily fit 1. Specifically, 1 E-ATX and 1 ITX motherboards with power supply space designed to fit in the bottom of the case.
Before you do any work on the case please ensure that you have some computer tools and an anti static ground mat.
Who is this product for?
You would think that this product is for the experienced builder, but how else are you going to get experience? Surprisingly, this case is for anyone that wants room and needs to have 2 computers in one case. For instance, do you want to game and stream? After all, easier said than done, this is the case.
Even if you presently have a single computer now, thinking of a possible upgrade and have some spare cash. By the same token, yeah I know, who doesn't? Specifically, why not pick up the 1000D? In short, move pieces from your old computer and do an upgrade in pieces. In addition, take your time, research the parts that you need and read the reviews. A good place to start, in the meantime, are my website reviews.
Specifications
| | |
| --- | --- |
| | |
| | 800 mm x 505 mm x 800 mm - 31.5" x 19.9" x 31.5" |
| | |
| | ATX - 225 mm - 8.66", SFX - 140 mm - 5.1" |
| Maximum CPU Cooler Height | |
| | |
| | |
| | |
| | 4 x Tempered Glass - 2 Side Panels, 1 Up Front and 1 on Top |
| | |
| | |
| | Steel, Aluminum, and Tempered Glass |
| | 120 mm, 140 mm, 240 mm, 280 mm, 360 mm, 420 mm, 480 mm |
| Compatible Corsair Liquid Coolers | H55, H60, H75, H80i, H90, H100i, H105, H110i, H115i, H150i |
| | ATX PSU primary, SFX secondary (not included) |
| | |
| | Lighting RGB and Fan Controller |
| | |
| | |
| | |
| | 2 x USB 3.1 Type C, 4 x USB 3.0, 2 x 3.5 mm Jacks |
| | Front 8 x 120 mm, Top 3 x 140 mm, Rear 2 x 120 mm or 1 x 140 mm |
| | Front 2 x 480 mm, Top 1 x 420 mm, Rear 1 x 240 mm |
Overview of Features
The 1000D is such a feature rich case, in detail, starting with the spaceous 2 systems in one. Plenty of storage space for both of the systems, also included is an integrated fan and RGB controller. Chiefly, an elegant looking exterior in black brushed aluminium with 4 smoked tempered glass panels.
In addition, the 2 side tempered magnetically mounted glass panels are removable, and swing outwards from the back. Then, open the door and access the dust filters in the top, front and bottom PSU slide out panels. The I/O panel is nice and furthermore, there's enough USB ports here for two systems.
Accordingly, easy to configure, attached to the Mini-ITX system and the rest to the ATX system. To point out, let's not forget the pair of USB Type-C ports. Furthermore, on the front I/O panel for the main ATX system are the power and reset buttons. Last, in the back you'll find the power and reset buttons for the ITX system.
Another cool feature unique to the 1000D is the backlit power button and the USB ports. In the same fashion, they have RGB LED backlighting in that portion of the case. Moreover, other ports include the 3.5 mm jacks for headphone and microphone. As can be seen, the absolute coolest features of the 1000D are the fan trays.
To point out, mounted on sliding rails and slides out of the case for easy access, unlocked via a thumbscrew. Additionally, around the back of the case, you can access the cable management by opening a pair of barn doors.
Commander Pro
In this case, through the doors into the bottom section of the case is a preinstalled Commander Pro. To explain, the integrated Corsair Commander Pro is a fan and lighting controller (mounted on the motherboard tray). In effect, users can control up to 6 x PWM fans and 2 x RGB LED strips through iCUE software. The controller also has four temperature probes and contains the plugs for the front panel USB 3.0 ports.
Also in the bottom are 6 x 2.5" drive trays, 5 x 3.5" drive trays totaling 11. As well as, lots of space for your cable management.
How to use
As can be seen, the case is very spaceous, you may have trouble filling it up with parts. All things considered, using two different motherboard systems in one case can be challenging. As a result, to avoid this potential issue, the 1000D has many cooling options.
In detail, the front panel holds up to 8 x 120 mm fans, 3 x 140 mm fans on top and 2 x 120/140 mm fans on the back. As a result a total of 13 fans - none included. Corsair says there is room for up to 4 x 480 mm radiators simultaneously (requires the purchase of additional trays). Therefore, by default, it will hold 2 x 480 mm radiators in front, and a 420 mm radiator on top.
Certainly, fan and radiator installation is easier because the chassis has radiator mounting trays which slide out from the case. To emphasize, Corsair says there is a wide variety of pump and reservoir mounting points making it very flexible inside.
Pros
Heavy Duty Super Tower Case
Ample Room for 2 Motherboards 1 E-ATX and 1 ITX
Fan and RGB Controller
Tempered Glass Panels
iCue enabled
2 year warranty
​Cons
Expensive
Heavy 65 lbs with no parts
No fans
No Power Supplies
Alternatives
Cougar Gemini X
The Cougar Gemini X is another dual system build case and labelled by Cougar as the greatest. Not as big as the 1000D, some would tend to argue, but for sure is an excellent case for any builder. The top chamber can fit an ATX System and additionally the other can fit a Mini ITX.
Accordingly, the case can be placed vertical or horizontal to suit your space distribution. Durable and robust a case that will last for years. My review to soon follow.
Thermaltake Core W200
In short, the Thermaltake Core W200 Series is a dual system case that offers unprecedented space for your hardware and liquid cooling. As a result your system is built from the ground up. For this reason Corsair named the TT Premium product line. Which in detail, follows the core values of Excellent Quality, Unique Design, Diverse Combinations and Boundless Creativity. In fact, under this product line, the Core W Series – Core W200 and Core WP200 super tower chassis with the Core P200 pedestal chassis can be used in combinations for different outstanding looks.
Consequently, the W200 and P200 can be combined to make up the WP200. This case combination will last for many years and will outlast the electronics. My review to soon follow.
Conclusions
All in all, the 1000D is a big case providing for up to 2 computers systems and plenty of storage. Furthermore, included is Commander Pro, an integrated fan and RGB controller. In fact, the case is future proof which means you can keep upgrading for many years.
Above all, this will be the last case you ever buy. Important to realize, the case also has a 2 year warranty. By and large, the tempered glass panels and brushed aluminium exterior give the case a great look.
As can be seen, the premium price is offset by the outstanding features. Lastly, for all of you builders, modders, customizers, and hobbyist, the 1000D is a case you should consider. To sum up, use your imagination and you can build the dream machine that you want.
Finally, I hope you found the Corsair Obsidian Series 1000D Review useful.
Above all, I appreciate your comments and thanks for reading.
Image courtesy of Corsair