4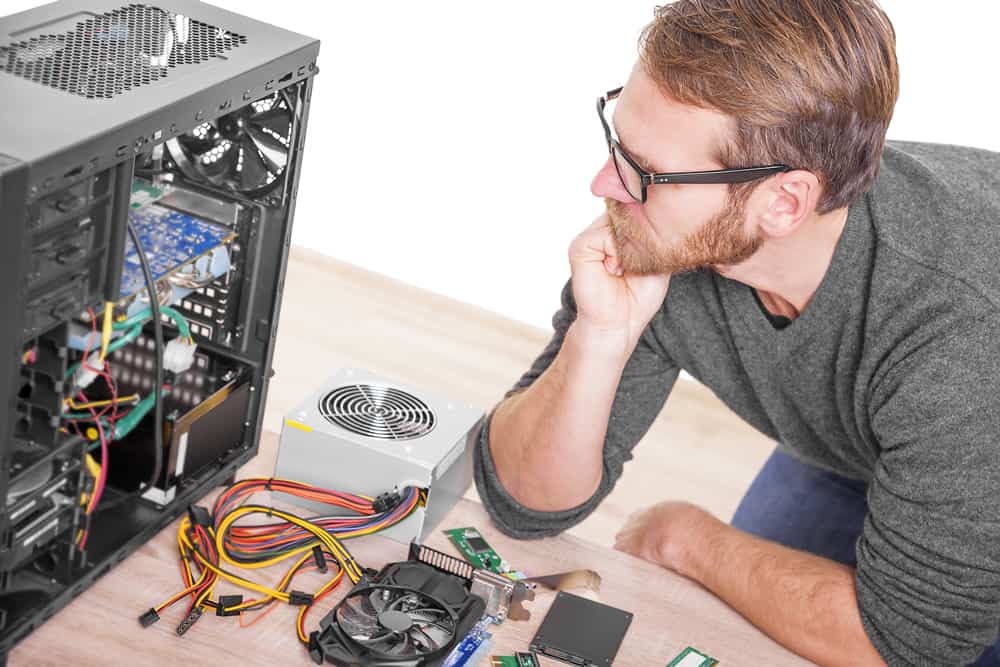 What PC Case Do I Have?
Specifically, if you're a casual PC user, you might not know very much about your rig. Likewise, figuring what sort of computer you have, and what sort of case it's in, is a good place to start. For this reason, if you want to upgrade or add hardware you will know what to do.
To demonstrate, if your case cannot fit an extra HDD drive, and you purchase one. What to do? Swear, take it back, neither. On the contrary, you can buy a USB portable HDD add on.
So, knowing the size of your case and its capabilities is important. Another key point to consider is motherboard form factors.
Motherboard Form Factors
What are the motherboard form factors and how are they different? There are dozens of form factors for computers, many of which are either obsolete or developed for proprietary applications.
For this reason, the majority of consumer motherboards sold are one of these form factors: Mini-ITX; Micro-ATX; ATX; and Extended-ATX.
Mini-ITX (M-ITX)
Formerly, the Mini-ITX, created by VIA for its low power C3 processor. Now adopted by motherboard manufacturers for use with both AMD and Intel chipsets. In detail, Mini-ITX boards measure: 17 cm x 17 cm (6.7" x 6.7"). In fact, Mini-ITX motherboards are perfect for small home computers and Home Theatre PCs (HTPCs).
At the present time, Mini-ITX boards line up with four of the mounting locations used by most ATX boards. Therefore, a Mini-ITX board should fit in any Micro-ATX or ATX case.
Micro-ATX (M-ATX)
Until now, created by Intel, Micro-ATX, is one of the most popular motherboard formats. In particular, Micro-ATX motherboards vary in size, the maximum is 244 mm x 244 mm (9.6" x 9.6"). For this reason, Micro-ATX motherboards can be smaller. To emphasize, must use standard ATX mounting locations and will fit in any Micro-ATX or ATX case.
In general, Micro ATX has many formats and supports most sockets. Similarily, chipsets are the same as ATX boards but lack extra expansion slots due to the smaller size. For example, take note, a newer GPU may not fit on the motherboard.
ATX
Overall, the most popular motherboard format, dating all the way back to 1995. ATX motherboard size: 305 mm x 244 mm (12" x 9.6") and certainly, will fit into any ATX case. Consequently, the board is too large for Mini-ITX and Micro-ATX cases.
As a result, the popularity of the ATX format provides unlimited combination of features from different manufacturers. As an illustration, budget boards to fully loaded enthusiast overclocking products with extra slots and require a big power supply. Finally, unless you have a small build or smaller requirement, the ATX is the way to go.
Extended-ATX (E-ATX)
In general, the Extended-ATX is a larger version of ATX. In detail, E-ATX size is: 305 mm x 330 mm (12" x 13"). Therefore, E-ATX boards will only fit into cases made specifically for them. Although, there are still some boards out there, they are rare, you can usually find them in workstations and servers.
Important to realize, manufacturers will always give you case measurements, so you can use that to determine fitting of parts.
To figure out what case you have, let's start by talking about the three most common types of PC cases. It's likely you have one of the three following styles.
Desktop Case
In general, everyone has seen the good old desktop computer case, a boxy design made to sit on the desktop. For the most part, used in the business office to save space with the monitor on top. On the whole, these computers usually had 1 possibly 2 fans.
The Full Tower
If you are planning a bigger build with lots of components, then a full tower, is the way to go. Additionally, these towers are around 30 inches and can hold between six and ten different drive bays. Moreover, if you are a power user, or gamer, this is the tower you will likely have.
By and large, usually supports the biggest motherboards up to E-ATX and sits on the floor.
The Mid Tower
A mid tower is smaller than a full tower, standing at a height of around 18 inches. Additionally, holds between 2 and 4 drive bays and is perfect for use in an office, library, school, or home. It also has space for older optical CD/DVD drives.
Mid towers have excellent cable management and is easily transportable due to their mid size. Regardless, this is the most popular and common case on the market. For the most part will support ATX motherboards.
The Miniature Tower (Small Form Factor SFF)
In contrast to the other 2 towers, the Mini Tower is the rarest of the three. As can be seen is about 15 inches tall and holds 3 drive bays at most. At the same time, making it impractical to add fans for additional cooling.
On the positive side, they are small, basic, and inexpensive. As can be seen these are the desktop version of a netbook. Accordingly, the motherboard supported is ITX.
Nevertheless if you don't know what case you have, it's likely one of these kinds of cases. In general, these three varieties are the most popular models available on the market. Point often overlooked, is the internal components, you may find brand names on labels.
Does your PC case fit the specifications of a mid tower case? If not, then it's probably one of the other two.
Case Size
If your case doesn't fit any of the specifications, then you might be out of luck. You may have a custom case or one that is obsolete. For this reason, if you still cannot figure out and want to know.
Then take a couple of photos of your motherboard and case with dimensions and send me an email. Without delay, we will figure out which case you have. Eventually, we will track down the history of the case.
In the meantime, check specific articles on particular models that seem to fit the general size of your case.
Aside from the three types of cases mentioned in this article, there are a huge variety of case sizes available. In other words, it's possible your case is not one of the three sizes. However, it is more than likely, that you have one of the three cases here.
One last thing, I must know what you think, so please comment and I will always reply. Thanks for dropping by and reading.