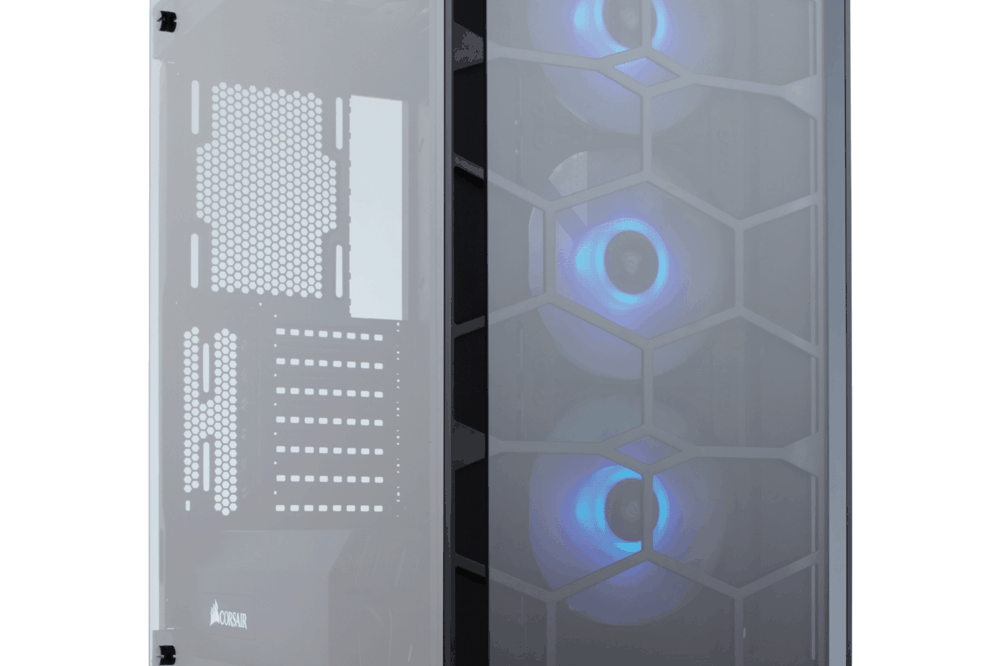 CORSAIR Crystal 570X RGB Mid-Tower Case Review
The glass tower case market is increasing, which is good news for all the gamers and tech enthusiasts that love showing off their builds. If you are considering building your own system and showing off its components, then you are in the perfect place to read a review about this incredible CORSAIR Crystal 570X RGB Mid-Tower Case, which can be a total game changer.
CORSAIR Crystal 570X RGB Mid-Tower Case
The CORSAIR Crystal case is all about glass, as you can notice that four sides are made of tempered glass.
Although the majority of the case is made from glass, it still boasts a proper cable management system. It was the third case to be released by Corsair in 2016, and the idea for this case was much the same as for the previous one in the series, but with upgraded aesthetics and a steel PSU cover, rather than the plastic one that its predecessor had.
Who is this product for?
This case is for those who enjoy attractive design with proper wire management for their system builds and for anyone who is looking for the latest in mid-tower case design.
That's why this case is a bit more expensive, but worth every dollar for people who want to show off their builds. It is easy to setup and maintain, so it is suitable for beginners as well as pros.
What's included?
When you receive your CORSAIR Crystal 570X RGB Case, you will get four tempered glass panels, three SP120 RGB LED fans, and an integrated RGB controller. Also included are the Velcro cable straps for clean cable management and removable, easy-cleaning dust filters.
Overview of features
As a pricier but premium case on the market, there are some important things that it has to offer. First of all, for the enthusiasts of the overall look of a case, with tempered glass enclosing the entire case, it is suitable for every component to be on display. In addition, there are three SP120 RGB fans for upgraded aesthetics.
When it comes to space, it has room for up to 6 case fans, with support for radiators in the front, rear, and on top. It has a direct airflow path with extensive water cooling options included.
There are fan trays which are removable from the front and top of the case. It has magnet dust filters, which are very easy to clean. It also includes USB 3.0 ports.
The company did not include an integrated fan controller, but there is enough place to add one by yourself if you want.
You can run the majority of the cables at the back side, as the cable management system is sufficient and neat, but tight. They could have added some more room for it.
The case's size is 18.89 x 20.15 x 9.21 inches.
How to use
When you start working on your system, remove the side panels and start by installing the HDDs onto the location behind the motherboard. Install the motherboard and SSDs by removing the necessary drive trays.
Install the power supply, and then you are pretty much ready to go with your system. Add the components which you think will best meet your needs.
Pros
Supplied with SP120 RGB LED
Excellent air flow
Plenty of room for storage inside
Complete see-through attractive design with tempered glass
Space for adding radiator of any size
Magnet dust filters easy to clean
Cons
No power supply included
Expensive
Tight cable management
Alternatives
CORSAIR Crystal 460X RGB Compact Mid-Tower Case
If you prefer less glass for your system build while still enjoying a clean design, you might consider this case. It comes with an all-steel exterior with two glass panels. The case includes RGB lighting and full dust filtration. It has good cable management unlike its successor in the same series. All that for less money than the one we reviewed above.
CORSAIR Obsidian 500D RGB SE Mid-Tower Case
This case comes with a beautiful Obsidian style, followed by the aluminum construction and premium tempered glass. Three LL 120 RGB fans are integrated with the Corsair Commander PRO, which offers full control of the lighting and cooling.
All in all, this case makes a PC builder's life much simpler as some of the components are already installed. All this comes with a fairly high price in comparison to the rest on the market, but if you are serious about your build, this is a great choice.
Conclusion
With proper construction quality, great airflow, and a stunning design, this case can be considered to be a great buy for those who have no issue paying the price, but you know what it's worth it.
With this case, you get four sides of tempered glass.
It doesn't just look great, it also functions properly with all the components included and those that you can add in it.
Even with the cabling, it will perfectly show off all the inside components in a neat way.