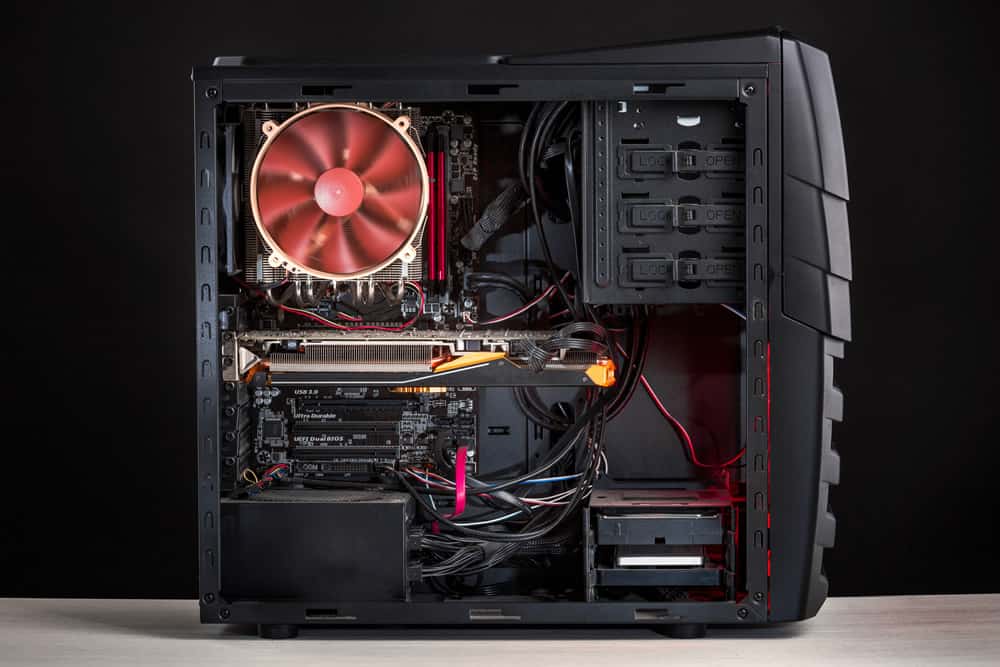 Best Computer Cases of 2019 Complete Reviews with Comparisons
When you are looking to build your computer, there is a lot to consider – from the internal hardware to aesthetics. All in all, why not showcase your build with the best case that you can afford.
When choosing the PC case, you will be building, you have to consider many things. If you choose wisely, you will have a case that could serve more than one build. As a result, you will get a significant return on investment.
So, what is the best computer case of 2019? To emphasize, in the reviews we will discuss 5 of the best cases in 2019. In addition, we will give you tips on what to look for in a perfect case. Without delay, let's have a look at the five best computer cases of 2019.
Comparison Chart
Best Computer Case Reviews
NZXT H500i
Generally speaking, the PC world has been the playground for NZXT for many years.
One of the biggest names in PC cases and accessories the company has been attempting to give their customers a more streamlined selection while still banking on their heavier models to keep everyone happy.
In fact, the new H-series includes the H500i and is one of many of these new sleeker cases.
Product Highlights
Trying to keep these sleeker designed models within a low price point is a hard feat, but the NZXT team has managed to create a series that does that very well.
Maintaining a compact design while focusing on reducing the noise of the cooling system the blueprint of the H500i is outstanding. Coming in at a low price and still including all these features is an outstanding accomplishment:
Vertical video-card mounting
Full exposure of the internal parts
Multiple color selection
Constructed completely of steel with entirely tempered glass side panels
Optimal airflow with x2 fans that are included
Compatible with installation of a water-cooling system
Supports multiple models of motherboards (mini-ITX, Micro-ATX and ATX)
Enhanced cable management
So, what does that all boil down to? In contrast, let's look at the likes and not to likes about the H500i.
What's to like about the NZXT H500i
A compact design means less room needed to house the unit once built and with the side panel window, the aesthetic is fantastic. Above all, the best feature is the vertical video card mounting which allows for the addition of other hardware.
The NZXT H500i is a fantastic choice with so many benefits, but even the most functional piece of equipment has its faults.
What's not to like about the NZXT H500i
In reality, we would be remiss if we didn't address the elephant in the room. Surprisingly, there have been many complaints about, and I would agree, is how hard the user's manual is to navigate.
Though in this day and age there are enough videos on YouTube to fix this problem it would still be nice if we could understand the manual.
Other than that, the second bad thing, or rather something that would make the case just that much better would be a card riser being included in the package. But even with these few cons the pros vastly outweigh them.
Cooler Master Q300L mATX
Cooler Master has always thought innovation was the key to taking over the market while still giving everything to the customers that need and want.
As can be seen, the Cooler Master Q300L delivers a quality product with a touch of innovation. So, let's look at the next computer case to make the best of 2019 list.
Product Highlights
The Q300L from Cooler Master separates itself from the pack by making sure to put some focus on the micro-ATX computer case instead of the trendier mini-ITX or the full ATX. Keeping the case in a budget-friendly area the folks at Cooler Master still bring many great features including:
Small chassis
Able to house multiple sized drives (2.5" or 3.5")
Water cooling radiator installation possible (up to 240mm)
Extra room for efficient cable management
Dust filter that is magnetic for better air performance
Full visibility of internals
Case can be housed either horizontally or vertically
Adjustable I/O panel (x6 locales)
The Q300L is one fine specimen that offers a low-price of entry to building the perfect machine to game your nights away. So, what is the final word on the case?
Well let's look at the good and bad of this entry to the best computer case of 2019 and then you can decide if it makes the potential purchase cut for you.
What's to like about the Cooler Master Q300L mATX
The price is first and foremost the best thing about the Q300L because the price will allow even the most budget-minded builder to be able to get themselves a fantastic case to house all their cool cards and hardware.
For the most part, on top of the great price is the fantastic cable management system. With this management system, you're still ensured a good air flow to maintain the inner workings' integrity while not overheating. As a result, these two reasons are enough to land this case on this list.
What's not to like about the Cooler Master Q300L mATX
In short, there is not much not to like about this computer case. But with the fact that there are absolutely no instructions on how to use the RGB controller is troublesome and the acrylic panels, while giving you great visibility, are not as strong as the tempered glass of some of the Q300L's competitors.
But those are two minor details that could never take away all the amazing attributes of the PC case.
Thermaltake V200
Above all, Thermaltake's mission is to give their customers a user experience beyond any other. This entry into the best computer cases of 2019, the Thermaltake V200, is just another notch in their belt. So, let's look at why this case made its way on the list.
Product Highlights
By and large, this case offers amazing air flow tied together with an awesome streamlined exterior design. Additionally, the reason this case is on this list has more to do with all the benefits and features.
Though the aesthetics do nothing to increase the efficiency of the machine some builders will appreciate the beautiful and sleek design. Altogether, features and benefits like the ones below are the icing on the cake. To point out, additional features like:
Pre-installed fans (x3) that sync through the motherboard + an extra fan in the rear
Dual mode controller built-in
Multiple LED options (16) through an RGB light button
Amazing views of internals from the tempered glass side panel
PSU cover built-in to keep all your cord and cables hidden
5 drive bays (3- 2.5" & 2- 3.5")
So, with all those cool and stylish designs what is the verdict on this PC case?
What's to like about the Thermaltake V200
The design is the first thing that anyone will notice, and though maybe not the most important, it is certainly one of the best factors of this slightly more expensive option.
Of course, the aesthetics would not be the same without the tempered glass panels. The additional prime features mean that you have plenty of room to add fans for a better cooling system as well a radiator to increase the efficiency of the cooling system.
What's not to like about the Thermaltake V200
On the negative side to this selection is the price tag. Though the price is comparable to many of its competitors, if you are on a budget there are other entries on this list that will be a better fit for you.
Other than the price, many have voiced concerns about the sub-par power source that is included with the case when it ships and the pre-installed fan that takes up room that could be otherwise used for other things.
Though there are a few negatives, the great design and capabilities to add fans to the case is well worth the extra few dollars it will take to call this yours.
Corsair Carbide 275R
So, this list of the best computer cases of 2019 would be naked without an entry from one of the big names in the market and so here is an entry from Corsair that more than fits the title of this article.
The team at Corsair have put their patented focus on detail and performance on the Carbide 275R, so let's take a closer look at why it ended up on this list.
Product Highlights
The Corsair Carbide 275R strips all the muss and fuss back and just delivers a quality case to be used to build a high-performance machine. Additionally, the Carbide also gives its customer these extras:
Aesthetically pleasing accent lighting
Space for up to six fans
Able to accommodate a 360mm radiator
Multiple options for enhancing cooling systems
Constructed to be durable
The 275R is one fine case, but if the specs aren't enough, check out the likes and not to likes.
What's to like about the Corsair Carbide 275R
If you are looking for a highly customizable exterior with minimal branding, then the Carbide is great for you because the team at Corsair have given you an option.
But even if your concerns are not with the aesthetics of how cool your finished tower will be, the amazing cooling system capabilities of the case are the proverbial straw that breaks your piggy bank wide open and pushes you toward the Carbide as your choice case.
What's not to like about the Corsair Carbide 275R
On the negative side, for a fantastic case, it lacks a cable management system. But with just that as the only drawback there is no way that you should discount the quality or performance of the Corsair Carbide 275R.
Rosewill ATX
By the same token, the last of the five best computer cases of 2019 is from the team at Rosewill. The ATX from Rosewill lives up to the company's mission of putting out high-quality PC gaming designs and another tech that are reliable while being innovative as well. So, let's look at why this PC case is on our list.
Product Highlights
The well-designed and great looking case has so many cool features and benefits we should just jump right to them. But first let's talk about how sweet this case looks with the tempered glass that allows a full view of the inner workings of the personally crafted PC you are about to build, while emitting a super cool lighting effect. These features include:
Pre-installed fans (x4) for the best airflow and ventilation
No tools needed for the docking station
Able to set up a CPU cooler or liquid cooling system
Many I/O ports including top mounted ports that include x2 USB for both 2.0 and 3.0
Capable of supporting a graphics card up to 380mm
Able to be upgraded to a high-level gaming PC
So, with all that was said with just the tech specs of this fine piece of PC housing, there is simply no way to list all the attributes that could sway you to this case. In brief, let's look at a few of the most important pieces – both positive and negative.
What's to like about the Rosewill ATX
The beautiful and cool design is one thing that may appeal to the more image-conscious PC builder, but the ability to upgrade to a super gaming computer is the best thing about this entry on the list.
What's not to like about the Rosewill ATX
Once again there is not much to dislike about the Rosewill ATX but the fact you cannot remove the dust cover and the poor-quality audio quality through the ports could be enough to deter you from looking at this choice as a valid one for your needs.
BUYER'S GUIDE
Just because the list above is of the best computer cases of 2019, that doesn't mean that your perfect case is within its contents.
After all, the information that was just given you will be a lot easier to understand once you know the key factors to look for.
So, let's look at some of those considerations you need to think about when you are on the hunt for the perfect case for you and your computing needs.
Size
The case size is one of the biggest things to look at when making your decision. To clarify, you wouldn't want to buy the case to be hit with the realization that all the internal hardware you had planned to build your new PC with just won't fit.
Whether that means you have too much room or you are trying to shove the pieces in there like those pants after the holidays, it is just not a good feeling.
So how do you know what size to go with? The trick is to think about the purpose of the build. For instance, if you are looking to build a beginning gamer PC, you should be safe with a PC case in the mid-tower range, but if you are looking for something that can handle a heavier gaming outline, you may want to go with a full tower.
After all, size does matter when playing in the world of PC building.
Compatibility
So, compatibility is not a huge concern but still something that should straggle across your mind when you are looking for that perfect PC case. There are no parts to the rig when it shows up except for a few connectors, so the compatibility you should be thinking about is in relation to size. See the above section for more on that.
Cooling and Air Flow
There are two forms of cooling when building a PC – air and liquid. Each has their benefits, but you will find most cases come with fans installed. However, most cases have room for liquid cooling systems as well.
Above all, keep in mind how much air flow you will need to keep your rig cool. After all, this depends on how hard you are going to be working your machine. For example, if you are going to overclock you may have to increase intake and exhaust fans.
Build Quality
As can be seen, the build quality is directly correspondent to everything else on this list. How cool your case looks is important for sure but more important than your cool quotient is the quality that you are looking to achieve in your build. So, thinking about which motherboard you want and its size or how many fans you want to install all play a part in what case you should purchase.
Cable Management
The last major consideration you need to put on your consideration list is the cable management system.
Different system will have different methods; some will be a system of tie offs and Velcro bands and some will just use screws and grommets. Either way, mounting a neat cable layout in your build will ensure efficient performance and manage the space within the case to the best of your ability.
You need to pay close attention to the space between the motherboard and the right-hand side panel. You should have ample space (1") between these two pieces; this will give you enough room to house thicker cables easily.
Furthermore, the other thing you need to think about is where the drive bays are facing. For this reason, ensuring better airflow and easier cable routing as well.
All things considered, which one can you fit into your budget? Accordingly, you should be able to make a decision for the ideal case.
F.A.Q.
The intricate nature of most of the frequently asked questions in relation to the PC building world makes answering them so much easier with some excellent videos courtesy of everyone's favorite video platform, YouTube.
As an illustration, videos are great because you can see rather than read - allowing you to follow along at home. So here are some answers to some of the questions you may be asking yourself right now.
How to build a PC case
How to choose a computer case
How to paint a computer case
How to open a computer case
How to swap computer cases
I hope these videos answer all of your questions. On the other hand, if they didn't, please send me an email in the comment section. In fact, I will answer all of your questions.
FINAL VERDICT
To summarize, the reviews and guides should help you to make an informed decision for the perfect case. So now that you have the knowledge, you can get out there and build a game-destroying computer.
In the final analysis, the decision is up to you.